Amberkovac59
Amber Kovac
Greatest Song Ever Written.mov
Accio-Potter.com | The Fastest Growing Harry Potter Fan Site - Harry Potter News, Fandom Events, PotterProfiles, The Accio-Potter Podcast, and Accio-Potter Wizard Radio
YooouuuTuuube
Dear Mr. Potter,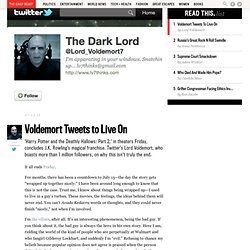 'Harry Potter' Twitter Meme Lord Voldemort Tweets to Live On
Perestroika is a bad word in Putin's rewrite of history, but his efforts to discredit the pop heroes of those heady days may wind up discrediting him. For three decades, generations of "Kinomans," or fans of the St. Petersburg rock band Kino, dressed in black, rolled up their sleeves and played guitars wishing to look and sound as brave, open-minded and honest as Viktor Tsoi, the band's leader and an idol of Perestroika.
Sporcle | Mentally Stimulating Diversions
YouTube - Broadcast Yourself.
Darth Vader vs Hitler. Epic Rap Battles of History 2
Po pi po ~ Miku Hatsune Vegetable Juice Dance (HQ, English subtitles, Download)
Unleash Your Imagination