Youtube
Jim Jefferies - I Swear To God (2009) DvDRip
The Known Universe | Hans Zimmer - Time (We Plants Are Happy Plants Remix) [HD]
Riding the Booster with enhanced sound
11 Months, 3000 pictures and a lot of coffee.
The Way of the Desert Sled
The Newsroom 2012 Opening Scene
Peter Weyland has been a magnet for controversy since he announced his intent to build the first convincingly humanoid robotic system by the end of the decade. Whether challenging the ethical boundaries of medicine with nanotechnology or going toe to toe with the Vatican itself on the issue of gene-therapy sterilization, Sir Peter prides himself on his motto, "If we can, we must." After a three year media blackout, Weyland has finally emerged to reveal where he's heading next.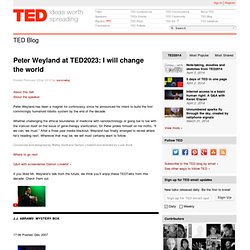 Evolution of the F1 Car: Animated
Kate Upton Dougie
Ignore Stephen Baldwin - Restore Joss Whedon