Gardening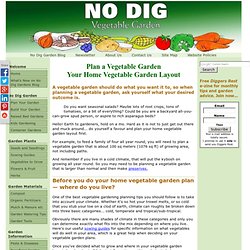 Plan a Vegetable Garden – Home Vegetable Garden plan – Vegetable Garden layout when Planning a Vegetable Garden
A vegetable garden should do what you want it to, so when planning a vegetable garden, ask yourself what your desired outcome is. Do you want seasonal salads?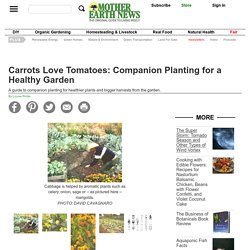 Carrots Love Tomatoes: Companion Planting for a Healthy Garden - Organic Gardening
A guide to companion planting for healthier plants and bigger harvests from the garden. By Louise Riotte February/March 1992 The A to Z Guide to Companion Planting for Healthier Plants and Bigger Harvests The magic and mystery of companion planting has intrigued and fascinated man for centuries, yet it is a part of the gardening world that has never been fully explored. Plants that assist each other in growing well, that repel insects or that even repel other plants are all of great practical use. However, we're just beginning to find out why, for example, carrots love tomatoes and radishes love lettuce.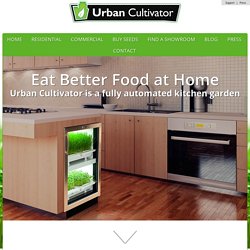 Urban Cultivator - Grow Your Own Herbs
Introducing The Urban Cultivator Home is an all in one indoor home garden. You get 365 days of perfect growing conditions for all of your favorite herbs and veggies.
Build a Walkway With a Precast Mold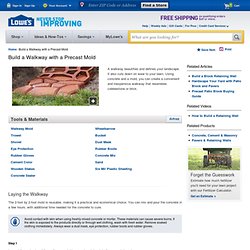 Create a convenient and inexpensive walkway with concrete and a walkway mold.
Gardening to Lift One's Spirits Gardening and Spirituality, Horticultural Therapy, Spiritual Gardens Gardening and Mental Health, Gardening and the Good Life
Gardening and Spirituality, Gardening to Lift One's Spirits, Spirituality of Gardening, Spiritual Gardens, Horticultural Theraphy, Religion and Gardening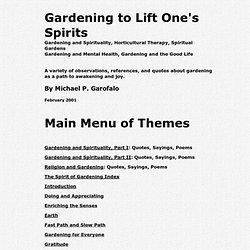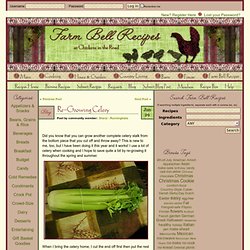 Did you know that you can grow another complete celery stalk from the bottom piece that you cut off and throw away? This is new to me, too, but I have been doing it this year and it works!
March 24, 2011 at 11:28 AM by Leslie Land | Originally published January 2009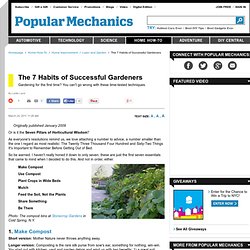 Find out if your soil is acidic or alkaline without a pricey test kit.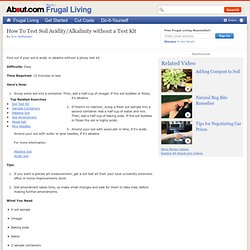 Colour Flower Black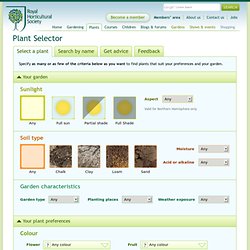 Care and Cultivation of Permanent Garden Beds - Organic Gardening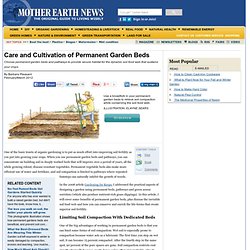 Choose permanent garden beds and pathways to provide secure habitat for the dynamic soil food web that sustains your crops. By Barbara Pleasant February/March 2012 One of the basic tenets of organic gardening is to put as much effort into improving soil fertility as you put into growing your crops.
Start a Quick and Easy Food Garden
Get a garden going fast with this season-by-season planting plan for a no-dig, easy-care bag garden. By Barbara Pleasant April/May 2010 If your yard has at least a 20-by-28-foot space that gets full or almost full sun, you can grow enough vegetables to have fresh food all season with surprisingly little effort. Go ahead and dig beds if you're lucky enough to have naturally fertile, well-drained soil, but don't let soil flaws stop you from starting a food garden. Instead, use this quick and simple bag gardening technique. This method is almost too easy to believe, but it absolutely works!
Fact: Chemical seed companies are flooding the market with GMO and Hybrid seeds, in an attempt to limit your access to non-hybrid seeds.
Emergency Seed Bank - Best Non Hybrid Seeds Available