Jungian Personality Types
BrainTypes.com
JCF - Neurological Standpoint
When Carl Jung wrote about the cognitive functions, he did not have the technological resources we have today to study parts of the brain, so he relied largely on anecdotal evidence from interactions with people.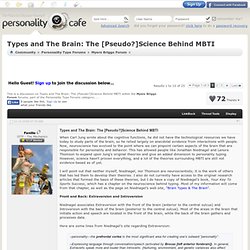 (Pseudo?)science behind MBTI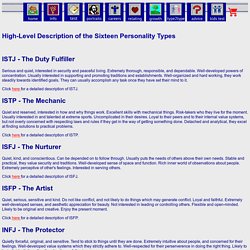 ISTJ - The Duty Fulfiller Serious and quiet, interested in security and peaceful living. Extremely thorough, responsible, and dependable. Well-developed powers of concentration. Usually interested in supporting and promoting traditions and establishments.
Noob JCF
Estimated Frequencies of Types - CAPT.org
Two-Faces The idea of a duality in character or personality is not new in psychology, literature, nor our everyday relationships with people. I suspect most everyone has at some time "been of two minds" over a situation - caught in a struggle between two contradictory impulses or courses of action, each having strong appeal, yet coming from different sides of our nature. And who has not discovered that many people display a different nature "once you get to know" them?