Misc Tools
ZURB Bounce, un outil pour simplifier les retours clients - service-web
Aujourd'hui sur le Blog Du Webdesign, découvrez Bounce, un service web de ZURB qui va vous simplifier les retours client. Comment se passent vos retours clients ? Pour tous ceux qui ne peuvent avoir leur client à côté d'eux à ce moment l à , les possibilités sont limités : ou une liste des points en texte (rapide mais pas toujours très clair) ou des screenshots annotés (longs pour le client, et pas toujours à sa porté) Découvrez aujourd'hui un service web qui vous simplifiera la tâche : ZURB Bounce .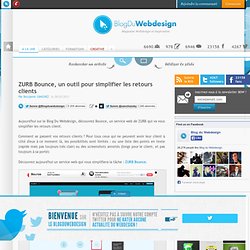 Native Form Elements
Auto-Reload When CSS/JS Changes For Any IDE With Tincr
When working on a project, after each CSS or JavaScript update, the need to refresh the browser is a time-loss (and it is usually done 10s of times). Tincr , a Chrome extension, solves this by integrating itself into Chrome's Developer Tools and auto-refreshing the browser once these files are changed. It is not bound to any IDE and works with all of them. There are several built-in project types (Ruby on Rails, Chrome extensions, Atlasian projects..) and custom ones can be created for any custom CSS/JS structure. Also, it -kinda- converts the Developer Tools into an IDE by adding an auto-save feature to changes made to the code from Developer Tools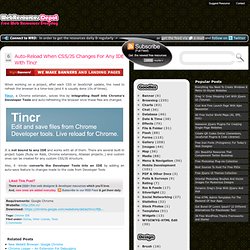 Trajectory
List of Twitter Bootstrap Resources | Bootsnipp.com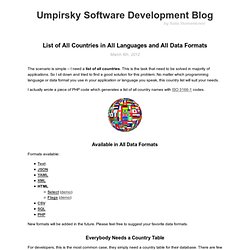 The scenario is simple – I need a list of all countries . This is the task that need to be solved in majority of applications.
List of All Countries in All Languages and All Data Formats | Umpirsky Software Development Blog
Drag & drop image files onto the space below, or use the "Open" link to load images using the file browser. Then, click "Generate" to create a sprite sheet and stylesheet. This demo uses a couple of HTML5 APIs, and it is only compatible with modern browsers.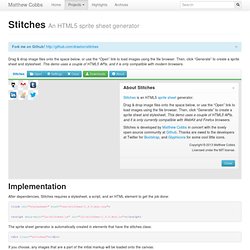 esoTalk - Free, Open-Source Forum Software
Fiddle Salad Language Configuration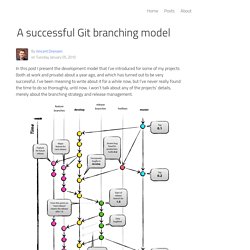 http://nvie.com/posts/a-successful-git-branching-model/
The Spoon.net Browser Sandbox makes cross-browser testing and backwards compatibility easy. Just click Run for any browser to launch it instantly. Browsers run within an isolated virtual environment, eliminating the need for installs and allowing legacy browsers such as Internet Explorer 6 to run on Windows 7 and 8.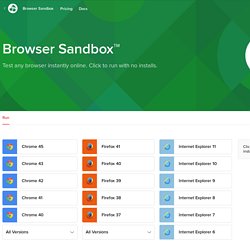 Continuous integration for PHP with phpUnderControl - Recursive Design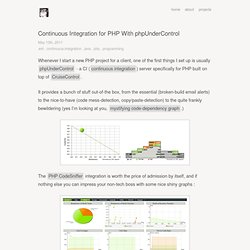 Whenever I start a new PHP project for a client, one of the first things I set up is usually phpUnderControl - a CI ( continuous integration ) server specifically for PHP built on top of CruiseControl . It provides a bunch of stuff out-of-the box, from the essential (broken-build email alerts) to the nice-to-have (code mess-detection, copy/paste-detection) to the quite frankly bewildering (yes I'm looking at you, mystifying code-dependency graph .) The PHP CodeSniffer integration is worth the price of admission by itself, and if nothing else you can impress your non-tech boss with some nice shiny graphs : … and a nice row of green ticks to show that your tests are all passing :
Interstate - Roadmap