Inglês
Resultados da pesquisa. Reserve agora o seu hotel! Videojug - Get Good At Life. The world's best how to videos plus free expert advice and tutorials. English Club. Lesson Plans for EFL Teachers | The Classroom | Learning English. Music & Web2.0. English verbs. OneLook. English as a Second Language Podcast.
Hi there!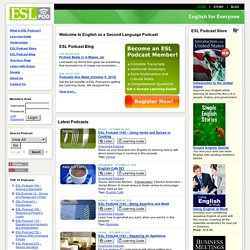 I'm a Brazilian student of English in international trading. First of all, I wanna thank you because your podcast is really helping me to improve my English listening/conversation skills. Besides, someday I'll sue you, because I´m getting addicted to podcasts, and I simply can't stop listening to them. Contemporary Brazilian Short Stories (CBSS) Grammar lessons, vocabulary, business terms, idioms and wordgames for learners of English. Phrasal Verbs. Fale inglês, aulas de inglês, palavras em inglês e aprenda inglês no EnglishSpeak.com.
Free online translation - translator for all popular languages a. Chaîne de hellochannelenglish.
Learning English - Lesson One (Introduction) Dicionário visual Inglês -> Português online. Como-aprender-ingles. Quem Mais Quer Aprender Inglês?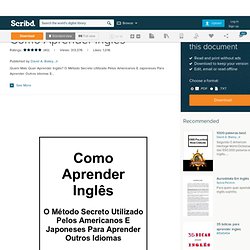 Copyright 2005 David A. Bailey, Jr – Todos Os Direitos Suponha Que Esta Situação Aconteça com Você em Viagem ao Exterior De Novo Ele Pergunta "Hablas Espanhol?". Pesquisador Comprova Que De 5 Alunos, 4 Podem Aprender A Falar Um Novo IdiomaEm Metade Do Tempo Que A Maioria Das Escolas Permitem. Adir Ferreira Idiomas. Inglês na Ponta da Língua :: Denilso de Lima | Inglês. Visual dictionary. Bing Translator. Google Tradutor. Table of Contents. Dicionário - tradução online - bab.la. Oferecemos traduções em diferentes idiomas, desde expressões coloquiais e regionais até vocabulário técnico e específico.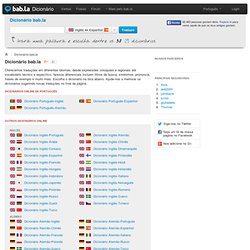 Nossos diferenciais incluem filtros de busca, sinônimos, pronúncia, frases de exemplo e muito mais. Escolha o dicionário na lista abaixo. Ajude-nos a melhorar os dicionários sugerindo novas traduções no final da página. Aprendeu alguma expressão em espanhol recentemente? Algum termo técnico para o qual não consegue encontrar a tradução para espanhol que procura?
---