Twitter
Visible Tweets – Twitter Visualisations. Now with added prettiness! Twitter Symbols. Never forget the Twitter Symbols, install our Bookmarklet.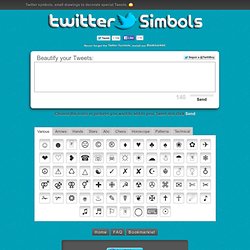 Choose the icons or pictures you want to add to your Tweet and click Send ⒶⒷⒸⒹⒺⒻⒼⒽⒾⒿⓀⓁⓂⓃⓄⓅⓆⓇⓈⓉⓊⓋⓌⓍⓎⓏ①②③④⑤⑥⑦⑧⑨⑩a̷b̷c̷d̷e̷f̷g̷h̷i̷j̷k̷l̷m̷n̷ñ̷o̷p̷q̷r̷s̷t̷u̷v̷w̷x̷y̷z̷A̷B̷C̷D̷E̷F̷G̷H̷I̷J̷K̷L̷M̷N̷Ñ̷O̷P̷Q̷R̷S̷T̷U̷V̷W̷X̷Y̷Z̷ 70 outils indispensables pour Twitter. 10 Ways to Find People on Twitter. Twitter is all about facilitating conversations, but until you're following some people, it's just a blank page.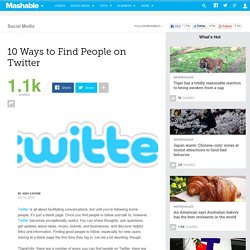 Once you find people to follow and talk to, however, Twitter becomes exceptionally useful. You can share thoughts, ask questions, get updates about news, music, brands, and businesses, and discover helpful links and information. Twitter lance le bouton "Follow" pour être suivi en un clic ! 100 services à connaître pour mieux utiliser Twitter.
---