Google
Tutoriel : configurer les paramètres d'URL dans Google Webmaster Tools. Par Olivier Duffez, Mardi 14 août 2012 Sur les sites dynamiques, on trouve parfois/souvent des paramètres passés dans les URL (derrière le signe ?).
Ils peuvent servir à configurer le contenu à afficher ou à gérer des options pour liées à l'internaute. Guide du créateur YouTube. Bouton +1. Documentation Vous pouvez insérer le bouton +1 sur votre site Web et le personnaliser en fonction de vos besoins, par exemple en définissant sa taille et sa technique de chargement.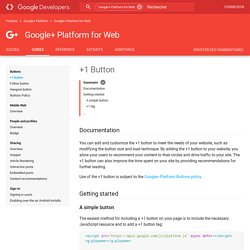 En ajoutant le bouton +1 à votre site Web, vous donnez aux utilisateurs la possibilité de recommander votre contenu à leurs cercles et d'attirer le trafic vers votre site. Local Search Ranking Factors | Local SEO Best Practices for Ranking in Google Places. Introduction Another year, another increase in the complexity of Local search results at Google.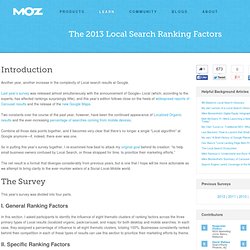 Last year's survey was released almost simultaneously with the announcement of Google+ Local (which, according to the experts, has affected rankings surprisingly little), and this year's edition follows close on the heels of widespread reports of Carousel results and the release of the new Google Maps.
---