Ascii Art
Pour nous faire regretter l'émergence des interfaces graphiques, c'est bien connu : avant c'était bien mieux :-p
:joan stark's ASCII Art Gallery:
Art ASCII. Un article de Wikipédia, l'encyclopédie libre.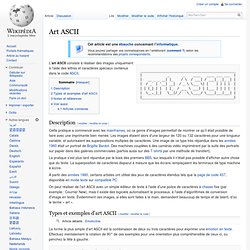 L'art ASCII consiste à réaliser des images uniquement à l'aide des lettres et caractères spéciaux contenus dans le code ASCII. Description[modifier | modifier le code] Cette pratique a commencé avec les mainframes, où ce genre d'images permettait de montrer ce qu'il était possible de faire avec une imprimante bien menée.
ASCII Art Farts. ASCII Art. ASCII Art Generator - Make your picture into text. This little program converts your picture to ASCII text art - a jumble of letters, numbers and symbols that do not appear to have any significance until you step back and look at the whole picture.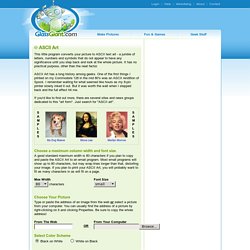 It has no practical purpose, other than the neat factor. ASCII Art has a long history among geeks. One of the first things I printed on my Commodore 128 in the mid 80's was an ASCII rendition of Spock. Générateur de texte ascii art - convertir texte en ascii art txt2ascii texte ascii code texte2ascii art text2ascii generateur de texte ascii gratuit pre monospace ascii text generator.
Ascii Art Dictionary (Andreas Freise) ASCII ART. To explore and enjoy the many ASCII art pictures on this site, just pick an Art Category from the menu on the left.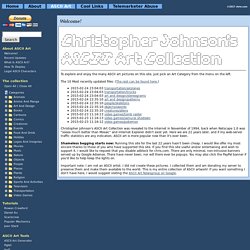 The 10 Most recently updated files: (The rest can be found here.) Christopher Johnson's ASCII Art Collection was revealed to the Internet in November of 1994, back when Netscape 1.0 was "soooo much better than Mosaic" and Internet Explorer didn't exist yet. Here we are 19 years later, and if my web-server traffic statistics are any indication, ASCII art is more popular now than it's ever been.
Shameless begging starts now: Running this site for the last 19 years hasn't been cheap. I would like offer my most sincere thanks to those of you who have supported this site. Ascii-fr.com : Images d'Art Ascii !
---
almr13 Apr 10 2012

Un art né avant l'informatique qui a connu l'heure de gloire avec les terminaux textes et qui perdure ...
---