Comics&superheroes
Batman Characters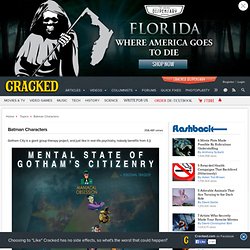 Gotham City is a giant group therapy project, and just like in real-life psychiatry, nobody benefits from it. Just The Facts "The $*#@ Batman is mother-flippin' crazy!" according to several gangs of multicultural street punks.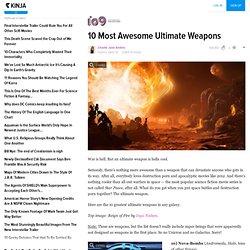 In the classic "Atari Force" comic book the Lovecraftian "Dark Destroyer" created a bomb capable of destroying an entire universe. The science behind it was sketchy, an antimatter core into a matter universe, but it essentially flipped space/time and the shockwaves scrambled the locations of other universes around it. On a more mundane note, Homeworld 2 had a good weapon, the Saajuk, which had a near death star beam in a very mobile battleship.
10 Most Awesome Ultimate Weapons
Best Art Ever (This Week) - 04.29.11
Apr 29th 2011 By: Andy Khouri The proliferation of social media is an incredible boon for lovers of comic book art, design and illustration. Sites like Flickr, Tumblr, DeviantArt and other countless blogs and feeds bombard us with a ceaseless supply of artwork by professionals and fans that is variously excellent, clever, funny, innovative, and numerous degrees of awesome.
Costumes Pictures
mental_floss Blog » 7 Comic Book Superpowers the World Can Do Without