Change11
Identity
Ideas from the thirteen weeks of MOOC « Not Worth Printing. One recurring theme of the thirteen weeks of MOOC sessions has been that the current education system is no longer appropriate for learners in the 21st century.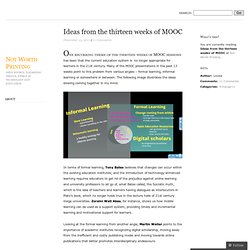 Many of the MOOC presentations in the past 13 weeks point to this problem from various angles – formal learning, informal learning or somewhere in between. The following image illustrates the ideas slowing coming together in my mind. Spaced learning. Spaced Learning is a learning method in which highly condensed learning content is repeated three times, with two 10-minute breaks during which distractor activities such as physical activities are performed by the students.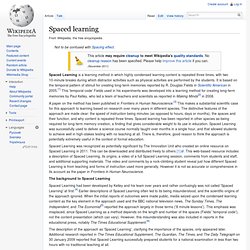 It is based on the temporal pattern of stimuli for creating long-term memories reported by R. Douglas Fields in Scientific American in 2005.[1] This 'temporal code' Fields used in his experiments was developed into a learning method for creating long-term memories by Paul Kelley, who led a team of teachers and scientists as reported in Making Minds[2] in 2008.
Digital Learning
Learning Analytics. Learning. Rhizome. Connectivism. Dave Cornier. Curation is not Aggregation! Education. Rhizomatic Education : Community as Curriculum.
Below is my paper as it appears in Innovate – Journal of Online Education.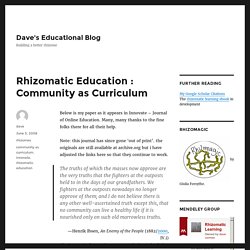 Many, many thanks to the fine folks there for all their help. Note: this journal has since gone 'out of print'. the originals are still available at archive.org but i have adjusted the links here so that they continue to work. The truths of which the masses now approve are the very truths that the fighters at the outposts held to in the days of our grandfathers. Workers, soldiers or nomads – what does the Gates Foundation want from our education system? This is the first draft of the thinking I've been doing lately, it draws on a recent article from the gates foundation about learning being like working.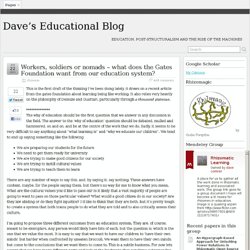 It also relies very heavily on the philosophy of Deleuze and Guattari, particularly through . The why of education should be the first question that we answer in any discussion in the field. The answer to the 'why of education' question should be debated, mulled and hammered, on and on, and be at the centre of the work that we do. Sadly, it seems to be very difficult to say anything about "what learning is" and "why we educate our children". Community as Curriculum – vol 2. The Guild/Distributed Continuum. "Community as Curriculum", in: D.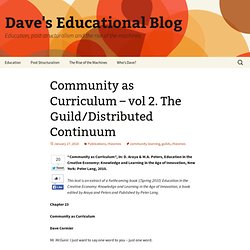 Araya & M.A. Peters, Education in the Creative Economy: Knowledge and Learning in the Age of Innovation, New York: Peter Lang, 2010. This text is an extract of a forthcoming book ((Spring 2010) Education in the Creative Economy: Knowledge and Learning in the Age of Innovation, a book edited by Araya and Peters and Published by Peter Lang.Chapter 23 Community as CurriculumDave Cormier. A pedagogy of abundance or a pedagogy to support human beings? Participant support on massive open online courses | Kop. Rita Kop and Hélène Fournier National Research Council of Canada John Sui Fai Mak Australia Abstract This paper examines how emergent technologies could influence the design of learning environments.
It will pay particular attention to the roles of educators and learners in creating networked learning experiences on massive open online courses (MOOCs).
---