Facebook
Aliza Sherman sur Twitter : Ah, you brought back such fond memories #failwhale #facebook #facebookdown @myster... Facebook. Why Is Facebook Blue? The Science Behind Colors In Marketing. Editor's Note: This is one of the most-read leadership articles of 2013.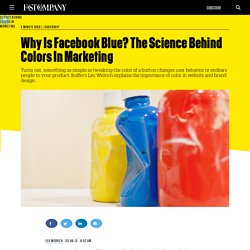 Click here to see the full list. Why is Facebook blue? According to The New Yorker, the reason is simple. It's because Mark Zuckerberg is red-green color blind; blue is the color Mark can see the best. Not highly scientific, right? Storytelling for citizen leaders and nonprofit organizations. Facebook Workshop: Optimizing for Nonprofits. Facebook Workshop: Optimizing for Nonprofits. Sheryl Sandberg: 'There's No Such Thing As Work-Life Balance' Sheryl Sandberg is the chief operating officer of Facebook, a mother of two, and an outspoken advocate for women leaders.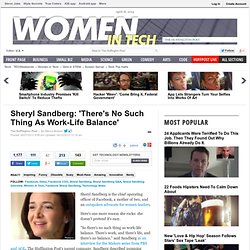 Here's one more reason she rocks: she doesn't pretend it's easy. "So there's no such thing as work-life balance. There's work, and there's life, and there's no balance," said Sandberg in an interview for the Makers series from PBS and AOL, The Huffington Post's parent company. Sandberg described pumping breast milk while on conference calls at the office during her time at Google.
Facebook unveils new Subscribe button, eliminating your desire for any other network. Just a day after publicly launching new smart lists and better suggestions, categorising your friends based on demographic information, Facebook will introduce over the next few days features that could, put simply, eliminate your desire to use any other social network.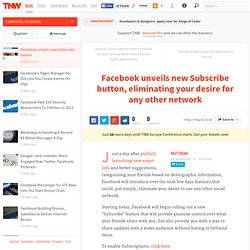 Starting today, Facebook will begin rolling out a new "Subscribe" feature that will provide granular control over what your friends share with you, but also provide you with a way to share updates with a wider audience without having to befriend them. To enable Subscriptions, click here. Previously, if one of your friends played a number of games, indirectly posting updates of their gaming activity, you would have no choice to either block a specific game from your News Feed or physically remove that persons updates altogether. Now, Facebook's Subscribe button automatically subscribes you to your friends updates, but will provide you with an easy way to control which updates you receive.
4 Free Facebook Landing Page Creation Tools. Go to the updated version of this post:10 Free Facebook Page Creation Tools [Update September 2012] I have been telling you to use Facebook landing pages to give people reasons to like your page.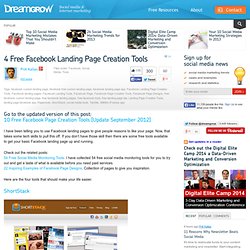 Now, that takes some tech skills to pull this off. Facebook "Likes" More Profitable Than Tweets [STUDY] If event registration site Eventbrite's experience is any indication, social media marketers looking for monetary returns on their efforts might get more value from Facebook than Twitter.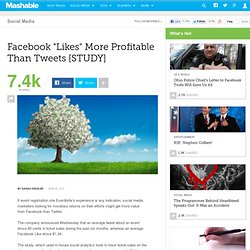 The company announced Wednesday that an average tweet about an event drove 80 cents in ticket sales during the past six months, whereas an average Facebook Like drove $1.34. The study, which used in-house social analytics tools to track ticket sales on the site, was a continuation of a similar analysis the company released in October after analyzing data from a 12-week period. That study also indicated Facebook drove more sales for Eventbrite than Twitter, although the difference between the two networks' sales per post was greater at that point than throughout the entire six-month period (the "value" of tweets increased). Facebook Page redesign: 10 things admins should do RIGHT NOW. Facebook announced a massive overhaul of its Pages for business today, and here's the most surprising part: It's awesome.
Don't listen to the angry mobs complaining about change. Today's shift is overwhelmingly positive and creates much-needed options for Page admins. That said, you've got some work to do if you want to make the most if it. We've compiled 10 simple steps that will get you started on the right foot: 1. 5 Ways To Market Your Business On Facebook To Both Friends And Fans. I often poll my Facebook community to see what issues they're facing regards their use of Facebook, particularly marketing on Facebook.
Following are a couple of related questions along with several suggested solutions: Hilary asks, "I have a personal Facebook page and a 'Fan' page, which I prefer to call an author page. Not all of my 'Fans' are friends. Valuing Facebook's Ads. The new Facebook Fan pages are live. No tabs, cleaner interface and more features. 16 December '10, 09:45pm Follow Update: It appears that Facebook pulled the updates, for the time being.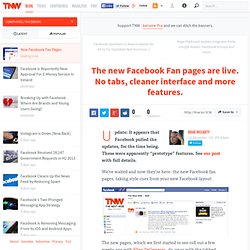 These were apparently "prototype" features. See our post with full details. We've waited and now they're here: the new Facebook fan pages, taking style cues from your new Facebook layout: TOMS Shoes.
---