IntelAtomZ6xxMoorestown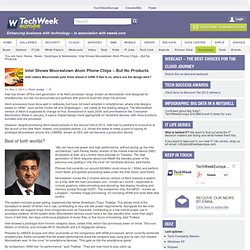 Intel has shown off the next generation of its Atom processor range, known as Moorestown and designed for smartphones, but has not announced any partners with plans to build the chips into phones.
Intel Shows Moorestown Atom Phone Chips - But No Products | eWEE
Can Intel Really Muscle Into Smartphones? | eWEEK Europe UK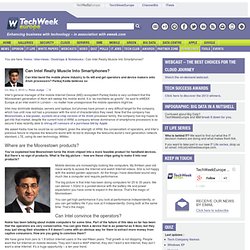 Intel's general manager of the mobile Internet Device (MID) ecosystem Pankaj Kedia is very confident that the Moorestown generation of Atom will sweep the mobile world. It is "as inevitable as gravity", he said to eWEEK Europe at an Intel event in London – no matter how unresponsive the mobile operators might be. Intel may dominate desktops, servers and laptops, but phones have proven a very difficult target for the company, which has until now not had a processor with the kind of characteristics they need.
Intel outs Atom for Android and MeeGo smartphones | News | TechR
Intel has announced its Atom Z6XX series – the chip giant's first big roll of the dice for the smartphone market.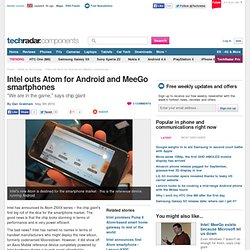 Fancy a smart phone that's powerful enough to play a 1080p HD movie while you're video conferencing, and power-smart enough to last 10 days on standby?
Intel Z6xx smart-phone processor prototypes: Moorestown massacre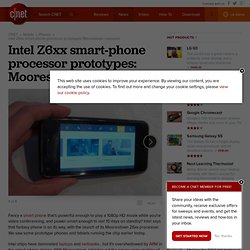 Intel has two confirmed smartphone partners, Nokia and LG, one mature graphics solution, Imagination's PowerVR which is also used in the iPhone and in a number of other smartphones and of course Meego, the software platform it formally launched with Nokia earlier last month. So how close is Intel from actually competing with ARM?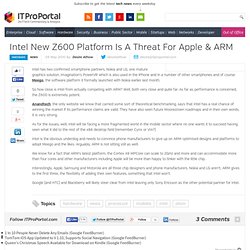 Intel New Z600 Platform Is A Threat For Apple & ARM - ITProPorta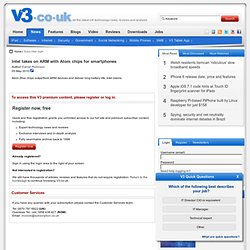 Intel's new Atom Z6xx series is capable of running games such as Quake 3
Intel takes on ARM with Atom chips for smartphones - V3.co.uk -
Intel shows off Atom processors for smartphones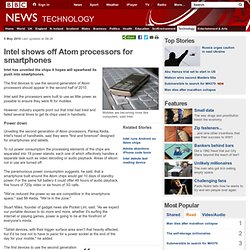 5 May 2010 Last updated at 08:26 GMT
Intel pushes moorestown tablets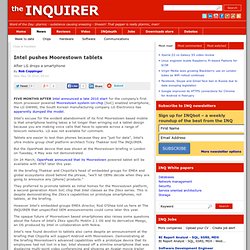 FIVE MONTHS AFTER Intel announced a late 2010 start for the company's first Atom processor powered Moorestown system-on-chip (SoC) enabled smartphone, the LG GW990, the South Korean manufacturing company LG Electronics has apparently dumped the model. Intel's excuse for the evident abandonment of its first Moorestown based mobile is that smartphone testing takes a lot longer than wringing out a tablet design because you are making voice calls that have to operate across a range of telecom networks. LG was not available for comment.
Intel moorestown chip demo video
Intel Enters Smartphone Sector With New Atom Chips - CPUs and Me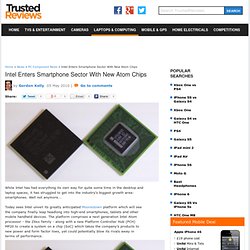 While Intel has had everything its own way for quite some time in the desktop and laptop spaces, it has struggled to get into the industry's biggest growth area: smartphones.
Intel is promising phone makers that its new Moorestown processor, now dubbed the Intel Atom Z-Series, will be able to offer handsets that can last up to 10 days without charge. The chip maker has detailed more information on its Moorestown processor, designed for mobile phones and tablets, as it officially launches its new mobile processor ready for mobile manufacturers to embrace. Claiming to give mobile makers the power of a computer in a mobile phone rather than the other way around, the new processor will focus on saving power so you can use it for what is currently unfeasible lengths of time.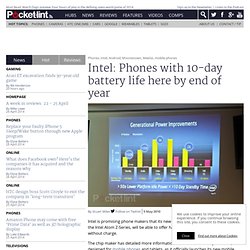 Intel: Phones with 10-day battery life here by end of year - Poc
VIDEO: Intel Atom Z-Series lets you play Quake 3 at 100fps on yo
Intel has shown off its new Moorestown, soon to be called Intel Atom Z-Series, mobile phone processor by showing it running Quake 3 at a 100fps.
Intel launches its first smartphone chip :: HEXUS.channel - Esse
Intel announced its long-awaited entry into the smartphone market today with the launch of the Atom Z6xx series processor - codenamed Moorestown - which is the first Intel processor low-power enough to be used in handheld devices. This represents a seismic shift in the smartphone market, bringing the x86 instruction set and Intel's PC heritage to an ecosystem that has, until now, exclusively used the ARM instruction set and its own operating systems and software. We attended Intel's launch event in London, headed-up by mobile Internet device director Pankaj Kedia, who made sure he addressed the issue of Intel being in the unfamiliar territory of moving into a market already dominated by another type of chip.
Intel demos powerful Atom Z-Series mobile CPU
Intel has been showing off its new Atom Z-Series mobile phone processor, which is powerful enough for a handset to kick out classic shooter Quake 3 at 100 frames per second, and process 1080p video effortlessly.
Intel has launched a new version of its Atom processor that uses far less power and "prepares the company to target a range of computing devices, including high-end smartphones, tablets and other mobile handheld products," said Intel. Belli Kuttanna, chief Intel Atom processor architect, said: "After we delivered the first-generation Intel Atom processor with 10x thermal power reduction, we challenged ourselves to achieve 50x power reduction at the platform level." The Z6xx system-on-chip (SoC), formerly codenamed Lincroft, includes 3-D graphics, video encoding/decoding and memory and display controllers. Intel says it can support "HD 1080p high-profile video decoding and 720p HD video recording", bringing "a rich, PC-like visual experience to powerful handheld computers".
New Intel Atom is aimed at tablets and smartphones | Technology
Intel Atom chip for smartphones unveiled
Home We couldn't find that page Try one of the links below to get back on track…
Intel shows off Moorestown Atom for smartphones | Mobile Devices
A look at Intel's Moorestown smartphone chipset | Mobile Devices
Mobile Phones
Atom for smartphones brings 10-day standby battery life | News |