IntelAtomZ6xxMoorestown
Intel Shows Moorestown Atom Phone Chips - But No Products | eWEE. Intel has shown off the next generation of its Atom processor range, known as Moorestown and designed for smartphones, but has not announced any partners with plans to build the chips into phones.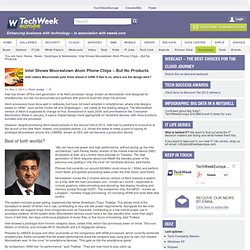 Atom processors have done well in netbooks, but have not been adopted in smartphones, where chip designs based on ARM – such as the Cortex-A8 and Snapdragon – are inside all the leading designs. The Moorestown version of Atom is supposed to change all that. Announced in early 2009, and previewed at the Consumer Electronics Show in January, it uses a chipset design more appropriate for handheld devices, with more functions bundled onto the processor. Can Intel Really Muscle Into Smartphones? | eWEEK Europe UK. Intel's general manager of the mobile Internet Device (MID) ecosystem Pankaj Kedia is very confident that the Moorestown generation of Atom will sweep the mobile world.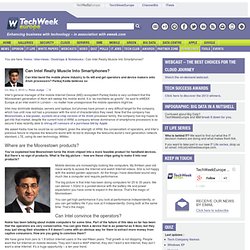 It is "as inevitable as gravity", he said to eWEEK Europe at an Intel event in London – no matter how unresponsive the mobile operators might be. Intel may dominate desktops, servers and laptops, but phones have proven a very difficult target for the company, which has until now not had a processor with the kind of characteristics they need. Intel outs Atom for Android and MeeGo smartphones | News | TechR. Intel has announced its Atom Z6XX series – the chip giant's first big roll of the dice for the smartphone market.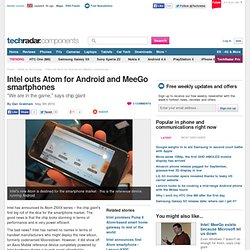 The good news is that the chip looks storming in terms of performance and is very power efficient. The bad news? Intel has named no names in terms of handset manufacturers who might deploy the new silicon, formerly codenamed Moorestown. However, it did show off an Aava Mobile reference device completely powered by Intel hardware during a launch event attended by TechRadar. Intel Z6xx smart-phone processor prototypes: Moorestown massacre. Intel New Z600 Platform Is A Threat For Apple & ARM - ITProPorta.
Intel has two confirmed smartphone partners, Nokia and LG, one mature graphics solution, Imagination's PowerVR which is also used in the iPhone and in a number of other smartphones and of course Meego, the software platform it formally launched with Nokia earlier last month.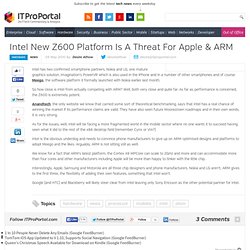 So how close is Intel from actually competing with ARM? Well, both very close and quite far. As far as performance is concerned, the Z600 is extremely potent. Anandtech, the only website we know that carried some sort of theoretical benchmarking, says that Intel has a real chance of winning the market if its performance claims are valid. They have also seen future Moorestown roadmaps and in their own words, it is very strong. Intel takes on ARM with Atom chips for smartphones - V3.co.uk - Intel shows off Atom processors for smartphones. 5 May 2010Last updated at 09:26 Mobiles are becoming more like computers, said Intel Intel has unveiled the chips it hopes will spearhead its push into smartphones.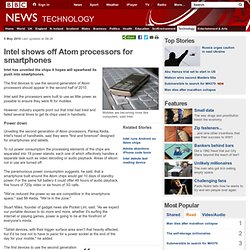 The first devices to use the second generation of Atom processors should appear in the second half of 2010. Intel said the processors were built to use as little power as possible to ensure they were fit for mobiles. Intel pushes moorestown tablets. FIVE MONTHS AFTER Intel announced a late 2010 start for the company's first Atom processor powered Moorestown system-on-chip (SoC) enabled smartphone, the LG GW990, the South Korean manufacturing company LG Electronics has apparently dumped the model.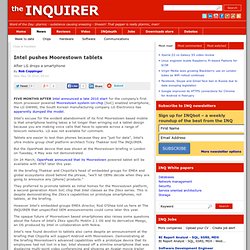 Intel's excuse for the evident abandonment of its first Moorestown based mobile is that smartphone testing takes a lot longer than wringing out a tablet design because you are making voice calls that have to operate across a range of telecom networks. LG was not available for comment. Intel moorestown chip demo video. Intel Enters Smartphone Sector With New Atom Chips - CPUs and Me. While Intel has had everything its own way for quite some time in the desktop and laptop spaces, it has struggled to get into the industry's biggest growth area: smartphones.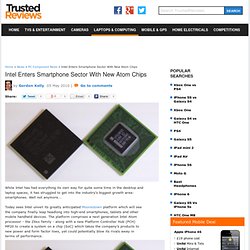 Well not anymore... Today sees Intel unveil its greatly anticipated Moorestown platform which will see the company finally leap headlong into high-end smartphones, tablets and other mobile handheld devices. The platform comprises a next generation Intel Atom processor - the Z6xx family - along with a new Platform Controller Hub (PCH) MP20 to create a system on a chip (SoC) which takes the company's products to new power and form factor lows, yet could potentially blow its rivals away in terms of performance.
Intel: Phones with 10-day battery life here by end of year - Poc. Intel is promising phone makers that its new Moorestown processor, now dubbed the Intel Atom Z-Series, will be able to offer handsets that can last up to 10 days without charge.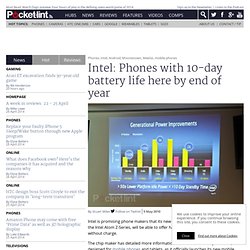 The chip maker has detailed more information on its Moorestown processor, designed for mobile phones and tablets, as it officially launches its new mobile processor ready for mobile manufacturers to embrace. Claiming to give mobile makers the power of a computer in a mobile phone rather than the other way around, the new processor will focus on saving power so you can use it for what is currently unfeasible lengths of time. VIDEO: Intel Atom Z-Series lets you play Quake 3 at 100fps on yo. Intel has shown off its new Moorestown, soon to be called Intel Atom Z-Series, mobile phone processor by showing it running Quake 3 at a 100fps.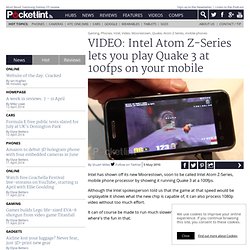 Although the Intel spokesperson told us that the game at that speed would be unplayable it shows what the new chip is capable of, it can also process 1080p video without too much effort. It can of course be made to run much slower, so you can at least play it, but where's the fun in that. Intel is hoping that it can bring its computing power and know how to the mobile phone industry rather than simply being a mobile phone chip maker that can do computers too. Intel launches its first smartphone chip :: HEXUS.channel - Esse.
Intel announced its long-awaited entry into the smartphone market today with the launch of the Atom Z6xx series processor - codenamed Moorestown - which is the first Intel processor low-power enough to be used in handheld devices.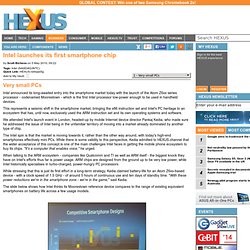 This represents a seismic shift in the smartphone market, bringing the x86 instruction set and Intel's PC heritage to an ecosystem that has, until now, exclusively used the ARM instruction set and its own operating systems and software. We attended Intel's launch event in London, headed-up by mobile Internet device director Pankaj Kedia, who made sure he addressed the issue of Intel being in the unfamiliar territory of moving into a market already dominated by another type of chip. Intel demos powerful Atom Z-Series mobile CPU. Intel has been showing off its new Atom Z-Series mobile phone processor, which is powerful enough for a handset to kick out classic shooter Quake 3 at 100 frames per second, and process 1080p video effortlessly. The famous PC chip manufacturer will be delving into the mobile CPU business -- an ecosystem almost entirely controlled by ARM -- and its promised feature set certainly gives the reigning champion cause for concern.
Intel is looking to apply its talents and knowledge from the desktop and laptop space to the mobile market by the year's end. Such lofty claims include up to 1.5 GHz processing power in smartphones and 1.9 GHz for tablets, such as the iPad. But these power hungry processing speeds won't sap a phone's battery life any more dramatically than the comparatively low powered iPhone, if Intel's numbers are to be believed. New Intel Atom is aimed at tablets and smartphones | Technology. The new Intel Atom Processor Z6xx Series Family (formerly "Lincroft" SoC) and Intel Platform Controller Hub MP20 (formerly "Langwell") Photograph: Nick Knupffer Intel has launched a new version of its Atom processor that uses far less power and "prepares the company to target a range of computing devices, including high-end smartphones, tablets and other mobile handheld products," said Intel.
Belli Kuttanna, chief Intel Atom processor architect, said: "After we delivered the first-generation Intel Atom processor with 10x thermal power reduction, we challenged ourselves to achieve 50x power reduction at the platform level. " The Z6xx system-on-chip (SoC), formerly codenamed Lincroft, includes 3-D graphics, video encoding/decoding and memory and display controllers. Intel shows off Moorestown Atom for smartphones | Mobile Devices. Intel has detailed Moorestown, the ultra-low-energy version of Atom that the company hopes will take it firmly into the smartphone processor market. Moorestown, officially branded as the Atom Z6xx-series, was shown off in London on Tuesday.
In its demonstration, Intel said the 45nm processing platform, formerly codenamed Lincroft, offered big power consumption savings over its predecessor, Menlow. According to Intel, at 21mW stand-by power consumption is 50 times more power efficient than Menlow, giving 10 days standby on a standard 1500mAh smartphone battery. A look at Intel's Moorestown smartphone chipset | Mobile Devices. Mobile Phones. October 30, 2012 10:36 am Apple rarely makes big executive cuts because it's a company that, by and large, succeeds. The flip side of continued success, though, is that any failures become all the more apparent. Just ask Scott Forstall, the man who's currently clearing his Cupertino desk. Is this what happens when you lose your lead?
Atom for smartphones brings 10-day standby battery life | News | By Darien Graham-Smith Posted on 5 May 2010 at 10:50 Intel has given the first public demonstration of its new Atom platform aimed at smartphones and tablet devices. The platform, codenamed Moorestown, was announced at last year's Intel Developer Forum, but technical details have only now been released.
With a typical BlackBerry-sized battery, that (Atom Z600) equals ten days on standby, or 48 hours of music.
---