Travel
Amazing libraries around the world [PICS]
Most Fascinating Geological Wonders On Earth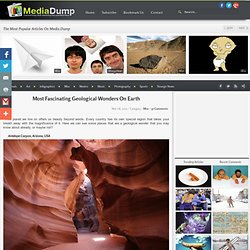 Mar 08, 2011 / Category : Misc / 37 Comments This planet we live on offers us beauty beyond words. Every country has its own special region that takes your breath away with the magnificence of it. Here we can see some places that are a geological wonder that you may know about already, or maybe not? Antelope Canyon, Arizona, USA
At the summit of Mount Teide, one of the largest Island volcanoes in the World is the Las Cañadas caldera. The crater, which is an enourmous sixteen kilometres across, is a picture of what Hell might look like if it cooled a little. Sheer walls that formed when the caldera first collapsed encircle this dry and alien place. And, with an arrogance than can only be accepted as typical, humanity has built roads and observatories across this no mans land that is little more than a plug over a sleeping yet still active and very large volcano. When we visited it some years ago we were standing in the viewing gallery when the ground beneath our feet trembled and several windows suddenly cracked. The sleeping giant was grumbling in its sleep.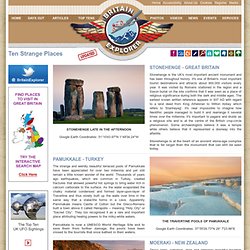 Ten Strange Places
Preachers Rock, Preikestolen, Norway Blue Caves - Zakynthos Island, Greece Skaftafeli - Iceland Plitvice Lakes – Croatia Crystalline Turquoise Lake, Jiuzhaigou National Park, China Four Seasons Hotel - Bora Bora
Amazing Places To Experience Around The Globe (Part 1)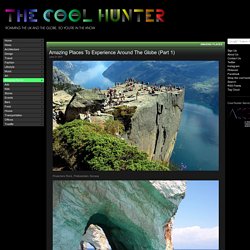 66 Beautiful Small Cities & Towns In Europe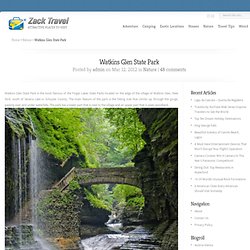 Watkins Glen State Park is the most famous of the Finger Lakes State Parks located on the edge of the village of Watkins Glen, New York, south of Seneca Lake in Schuyler County. The main feature of the park is the hiking trail that climbs up through the gorge, passing over and under waterfalls. The park has a lower part that is next to the village and an upper part that is open woodland.
Watkins Glen State Park