DIY
Blogs, Social Networking sites, and Projects that guide me to the inspiration or through the process of doing them myself. Oct 16
Custom Shower Curtain 66" x 72" (Large) | Make Your Own Gift Ideas
Area Rug: Contemporary? Handmade? .. Crochet??
Handmade Ruffle Rugs
Learning Center
Legature & Legature
Recycle Containers | Recycle Containers Blog
: Archive
Make Your Own Book & Journal Gifts There are several different ways to make a homemade journal, ranging from quick and easy methods to advanced book making . Here I've outlined those on the easier side of the spectrum and provided some super easy to make journal ideas as well. The easiest way to make a journal gift is to embellish a notebook. The notebook is covered inside and out to give a professional finish from front to back.
Homemade Journal Ideas and Techniques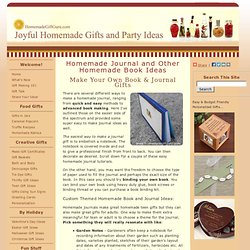 Homemade gift idea: homemade journal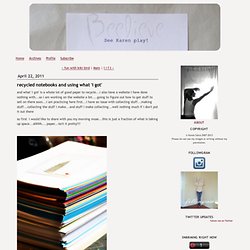 Beelieve: recycled notebooks and using what 'i got'
and what 'i got' is a whole lot of good paper to recycle...i also have a website i have done nothing with...so i am working on the website a bit....going to figure out how to get stuff to sell on there soon...i am practicing here first...i have an issue with collecting stuff...making stuff...collecting the stuff i make...and stuff i make collecting...well nothing much if i don't put it out there so first i would like to share with you my morning muse...this is just a fraction of what is taking up space...ahhhh....paper...isn't it pretty??? flash forward a bit and you get these...well 'i got' these 'butterfly' companion notes
Weaving on a Simple Frame Loom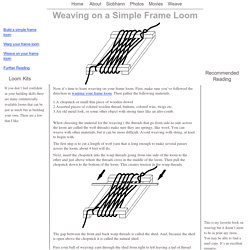 If you repeat this process going up the loom you will end up with a piece of fabric about 4 inches long. The weaving will be big enough for a large coaster or a nice little wall hanging. As you move up the loom it will get increasingly difficult to make a new shed so younger children may want to stop before they get to four inches of fabric. Running out of thread or changing color
Collection: Fiber Arts
» Transform your long sleeve t-shirt - Giannyl
aNeMonE Handmade Paper Flowers
How-Tuesday: Elegant Parchment Flowers with Jeffrey Rudell | The Etsy Blog
Plantable Seeded Paper Flowers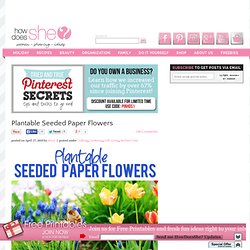 Can you find the fake ones? Okay, I won't insult your intelligence, but just in case … Here they are:) These paper roses are so fun…fun to display, fun to give, and FUN to plant! Wanna make some?
Craft DIY Projects, Patterns, How-tos, Fashion, Recipes @ Craftzine.com - Felting, Sewing, Knitting, Crocheting, Home & More
Sewing Tips