DIY
Blogs, Social Networking sites, and Projects that guide me to the inspiration or through the process of doing them myself.
Custom Shower Curtain 66" x 72" (Large) | Make Your Own Gift Ideas. Remember, its fun and easy to make your own gift – turn your DIY gifts ideas into stunning customized gifts with just a few clicks of your mouse – better still, a custom personalized gift often makes the best gift idea anyway, whatever the occasion!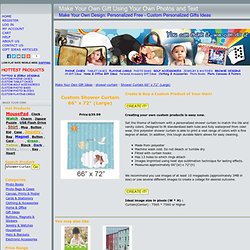 If you're ready to get started we suggest you visit our custom gift ideas directory. Production Time The production time for most items is 48 hours, however, as stated in the item descriptions, some products, for example, photo bags, take a little longer. Shipping Time Our standard delivery method is USPS International Airmail. Transit time is normally 6 to 10 business days. Eco-Friendly Bath Mat – DIY. Area Rug: Contemporary? Handmade? .. Crochet?? Handmade Ruffle Rugs. DIY Home Improvement Information.
DIY Network - Home Improvement How-To & Remodeling Projects.
Legature & Legature. Recycle Containers | Recycle Containers Blog. : Archive. Homemade Journal Ideas and Techniques. Make Your Own Book & Journal Gifts There are several different ways to make a homemade journal, ranging from quick and easy methods to advanced book making.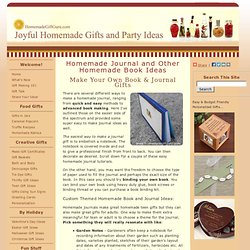 Here I've outlined those on the easier side of the spectrum and provided some super easy to make journal ideas as well. The easiest way to make a journal gift is to embellish a notebook. The notebook is covered inside and out to give a professional finish from front to back. Homemade gift idea: homemade journal. This Blog Linked From Here The Web Sunday, December 11, 2011 Homemade gift idea: homemade journal After eating a cookie from a batch my dad tried to make today, I realized I needed more gifts that did not involve baking as well as a wider variety of things, that way more people can find a gift they can easily make.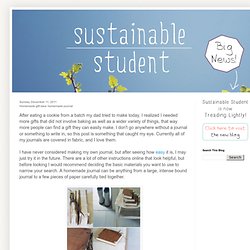 Beelieve: recycled notebooks and using what 'i got' And what 'i got' is a whole lot of good paper to recycle...i also have a website i have done nothing with...so i am working on the website a bit....going to figure out how to get stuff to sell on there soon...i am practicing here first...i have an issue with collecting stuff...making stuff...collecting the stuff i make...and stuff i make collecting...well nothing much if i don't put it out there so first i would like to share with you my morning muse...this is just a fraction of what is taking up space...ahhhh....paper...isn't it pretty???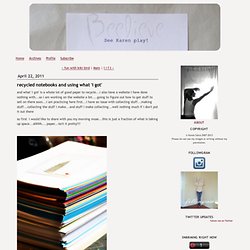 Flash forward a bit and you get these...well 'i got' these 'butterfly' companion notes. Weaving on a Simple Frame Loom. If you repeat this process going up the loom you will end up with a piece of fabric about 4 inches long.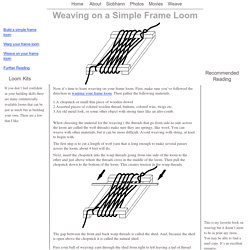 The weaving will be big enough for a large coaster or a nice little wall hanging. As you move up the loom it will get increasingly difficult to make a new shed so younger children may want to stop before they get to four inches of fabric. Running out of thread or changing color. Collection: Fiber Arts. » Transform your long sleeve t-shirt. Elegant Parchment Flowers with Jeffrey Rudell. Friend Etsy on Youtube & Blip.tv | Subscribe to Etsy's iTunes Podcast | MP4 Verson This week's How-Tuesday comes from Jeffrey Rudell, a paper artist, inventor, and engineer who has an eye for simple, beautiful projects and a knack for sharing his marvelous creations.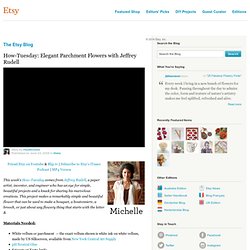 This project makes a remarkably simple and beautiful flower that can be used to make a bouquet, a boutonniere, a brooch, or just about any flowery thing that starts with the letter B. Materials Needed: White vellum or parchment — the exact vellum shown is white ink on white vellum, made by US Silkscreen, available from New York Central Art SupplypH Neutral GlueScissors or Xacto knifeStraight edge18″ of pre-cut, straight lengths of floral wireFloral tape Elegant Parchment Flowers: Plantable Seeded Paper Flowers. Can you find the fake ones?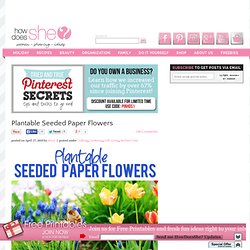 Okay, I won't insult your intelligence, but just in case … Here they are:) These paper roses are so fun…fun to display, fun to give, and FUN to plant! Wanna make some? Craft DIY Projects, Patterns, How-tos, Fashion, Recipes @ Craftzine.com - Felting, Sewing, Knitting, Crocheting, Home & More. Sewing Tips. DIY/ INSPIRATION.
---