Polka Dots
Lover.ly Makes Wedding Planning Simple. The Spark of Genius Series highlights a unique feature of startups and is made possible by Microsoft BizSpark.
If you would like to have your startup considered for inclusion, please see the details here. Name: Lover.ly Quick Pitch: Wedding planning made easy. Fun Facts about St. Patrick's Day. Fun Facts about St.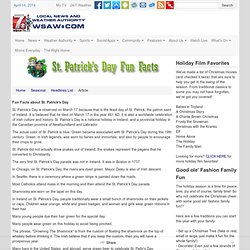 Patrick's Day St. Pinterest Becomes Top Traffic Driver for Retailers [INFOGRAPHIC] Pinterest, a two-year-old social bookmarking site that lets users collect and share things they like on the web, is driving increasingly significant amounts of traffic to retailers' websites.
The service enables users to create online bulletin boards, or "pinboards," for popular categories such as home decor, food and wedding inspiration. Members can use Pinterest's "Pin It" bookmarklet tool and iPhone app to save things they see online and offline, and explore and repin the images their friends collect via their personal newsfeeds. Hello!Lucky Blog. UncommonGoods was kind enough to let us pick out a little somethin' for a DIY project!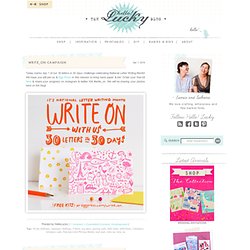 Naturally we were drawn to SF local- Yellow Owl Workshop's stamp-carving kit, though it was a tough call since they offer a ton of great DIY kits. We decided we wanted to do a bandana using a neon color palette, our most recent obsession. Follow the instructions below to create your own stamped bandana. In addition we will offer up $40 gift cards to UncommonGoods to TWO lucky winners. Polka Dots Stationery. Polka Dots www.polkadotsstationery.com (polkadotsinc) on Pinterest. Kelly @PolkaDotsInc (polkadotsinc)
Untitled. Pinterest: 13 Tips and Tricks for Cutting Edge Users. On Pinterest?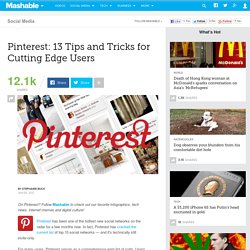 Follow Mashable to check out our favorite infographics, tech news, internet memes and digital culture! Pinterest has been one of the hottest new social networks on the radar for a few months now. 27 Twitter Tools To Help You Find And Manage Followers. This is my first Twitter related article, I am using Twitter a lot lately so it is really unforgivable not even have one article related to Twitter.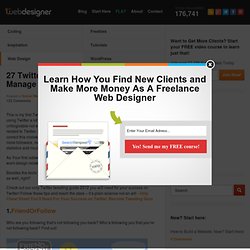 Now I am starting to correct this mistake and here comes list with 27 Twitter tools, which will help You find more followers, manage them, find who doesn't follow You back, who stops following, statistics and much, much more. As Your first added follower on this list You should follow @1stwebdesigner, if You want design related tweet links. Besides the tools you definitely could use guide how to tweet and build your followers as well, right? Check out our only Twitter tweeting guide 2012 you will need for your success on Twitter! Social Media Management, Twitter Tools, Social CRM | Sprout Social. 5 Ways Brands Can Use Pinterest to Boost Consumer Engagement. On Pinterest?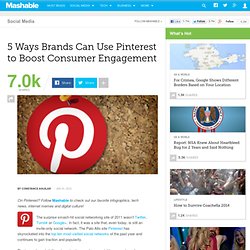 Follow Mashable to check out our favorite infographics, tech news, internet memes and digital culture! The surprise smash-hit social networking site of 2011 wasn't Twitter, Tumblr or Google+. In fact, it was a site that, even today, is still an invite-only social network.
---