Educational Technology Websites
Education technology. Through Deaf Eyes . Deaf Life . Technology as a Cultural Force. "I was in a mainstream program.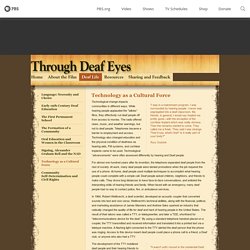 I was surrounded by hearing people. I never was segregated into a deaf classroom. My friends, in general, I would say treated me pretty good—with the exception of the cochlear implant which was really obvious. Then the remarks started to come. They called me a freak. Skouge. Teaching Now! 109 - Technology In Deaf Education. Technology and Literacy in Deaf Education. iLife - iMovie - Read about movie trailers and more new features.
NTID - Tipsheet: Assistive Listening Devices. SMART Boards for Education Interactive Whiteboards for the Classroom. Movingforward - Education Blogs by Discipline. Support Blogging! - Links to School Bloggers. The Top 100 Bloggers of 2013: Ten Niches, Ten Bloggers!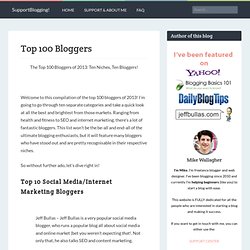 Welcome to this compilation of the top 100 bloggers of 2013! I'm going to go through ten separate categories and take a quick look at all the best and brightest from those markets. Ranging from health and fitness to SEO and internet marketing, there's a lot of fantastic bloggers. This list won't be the be-all and end-all of the ultimate blogging enthusiasts, but it will feature many bloggers who have stood out and are pretty recognisable in their respective niches.
---