EmberJS/TravisCI/MusicAPI/Etc | DropZone - 24/04/2012
Kyoto Cabinet/Tyrant | Database/Etc. 24/04/2012 - Music API/Etc To Sort. Travis CI - Distributed build platform for the open source community. Travis CI: Technical Overview. Travis-ci. Travis-ci/travis-ci. Travis-ci/travis-assets. Travis-assets/assets/javascripts at master · travis-ci/travis-assets. Travis-assets/assets/javascripts/vendor at master · travis-ci/travis-assets. Travis-assets/assets/javascripts/vendor/sproutcore-2.0 at master · travis-ci/travis-assets. Travis-assets/assets/javascripts/vendor/sproutcore-2.0/routes.js at master · travis-ci/travis-assets. Sign in | EmberJS - Campfire. Pangratz/emberjs-hubot.
Emberjs.iriscouch. Tech Jobs: Design, Programming, Rails, Executive, and more. To do list, simple, easy, fast, sharable: Ta-da List. Hello, We launched Ta-da List back in January of 2005 so everyone could have a fast and free to-do list app in their web browser.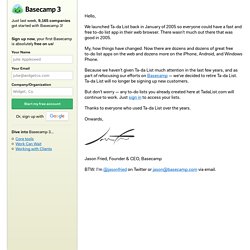 There wasn't much out there that was good in 2005. My, how things have changed. Now there are dozens and dozens of great free to-do list apps on the web and dozens more on the iPhone, Android, and Windows Phone. Because we haven't given Ta-da List much attention in the last few years, and as part of refocusing our efforts on Basecamp — we've decided to retire Ta-da List. Collaborative writing software online with Writeboard. Write, share, revise, compare.
Hello, We launched Writeboard back in October of 2005 as a stand-alone service.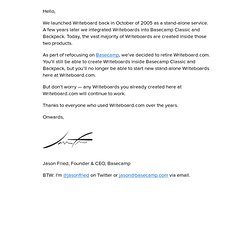 A few years later we integrated Writeboards into Basecamp Classic and Backpack. REWORK: The new business book from 37signals. First The new reality Takedowns.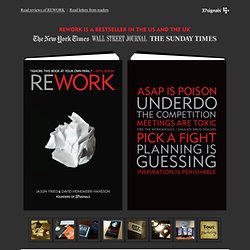 ---