Sort - Startup/Work/Freelance/Etc
Startup Library By Us How to Start a Startup .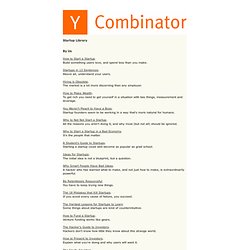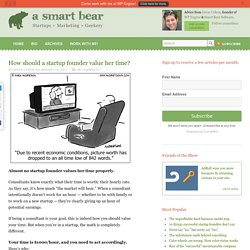 Almost no startup founder values her time properly. Consultants know exactly what their time is worth: their hourly rate. As they say, it's how much "the market will bear." When a consultant intentionally doesn't work for an hour — whether to be with family or to work on a new startup — they're clearly giving up an hour of potential earnings.
How should a startup founder value her time?
Work/Business/Startups/Projects/Outsource/Freelance/Etc
The startup skill set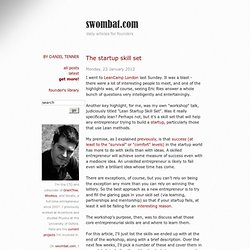 I went to LeanCamp London last Sunday. It was a blast - there were a lot of interesting people to meet, and one of the highlights was, of course, seeing Eric Ries answer a whole bunch of questions very intelligently and entertainingly. Another key highlight, for me, was my own "workshop" talk, judiciously titled "Lean Startup Skill Set".
"Lean Startup" is an approach for launching businesses and products, that relies on validated learning , scientific experimentation, and iterative product releases to shorten product development cycles , measure progress, and gain valuable customer feedback. In this way, companies, especially startups, can design their products or services to meet the demands of their customer base without requiring large amounts of initial funding or expensive product launches. [ 1 ] [ 2 ] [ 3 ] [ 4 ] [ 5 ]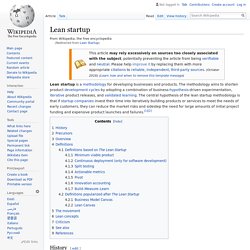 Quitting Your Job to Pursue Your New Company - The Agile League | The Agile League
Posted by John Maxwell on February 14, 2012 | Business , Recent | 3 brave citizens responded! | If you start your own company, prepare yourself for plenty of advice. You'll probably hear about business plans, starting capital, and legal representation.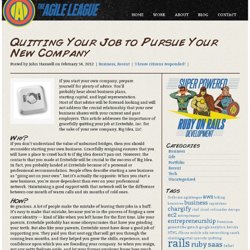 Outsource to Freelancers, IT Companies, Programmers, Web Designers from India, Russia, USA, and more
The Startup Owner's Manual is the indispensable "how to" reference for any startup founder, investor, entrepreneur or educator, incorporating a decade of hands-on learning about how great startups are built: A detailed, step-by step walk through putting Customer Development to work Uses the business model canvas to monitor Customer Development progress Plus a wealth of detailed information on how to get, keep, and grow your customers Need academic or bulk orders?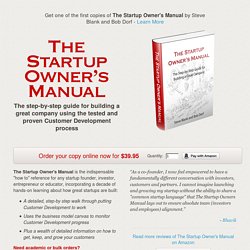 Startup Owners Manual
The Startup Store