Legal/Privacy/Terms of Service/Etc
About Fairware. Free as in speech, Fair as in trade "Fairware" is a term I coined in 2010 to designate open source development of software targeting a wide audience (typically published in the form of "Shareware" in the proprietary world) with expectation of fair compensation from users.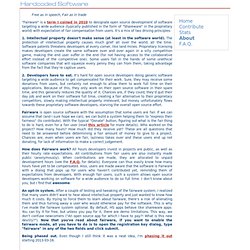 It's a mix of two driving principles: 1. Www.apache.org/licenses/example-NOTICE.txt. ========================================================================= == Example NOTICE file for use with the Apache License, Version 2.0, == == in this case for the Apache httpd-2.0 distribution. == ========================================================================= Apache HTTP Server Copyright 1999-2006 The Apache Software Foundation This product includes software developed at The Apache Software Foundation ( Portions of this software were developed at the National Center for Supercomputing Applications (NCSA) at the University of Illinois at Urbana-Champaign.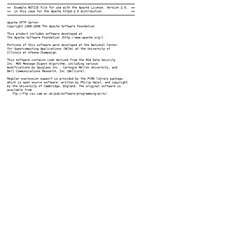 This software contains code derived from the RSA Data Security Inc. MD5 Message-Digest Algorithm, including various modifications by Spyglass Inc., Carnegie Mellon University, and Bell Communications Research, Inc (Bellcore). Khula Project | Human Readable Privacy Policies. Avoid A Class Action Lawsuit with a Single Clause - UpCounsel Blog. Privacy rules and guidance come from many different places: regulators, state statutes, federal statutes, and courts.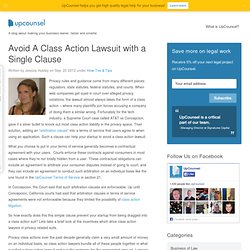 When web companies get sued in court over alleged privacy violations, the lawsuit almost always takes the form of a class action – where many plaintiffs join forces accusing a company of doing them a similar wrong. Fortunately for the tech industry, a Supreme Court case called AT&T vs Concepcion, gave it a silver bullet to knock out most class action liability in the privacy space. Their solution, adding an "arbitration clause" into a terms of service that users agree to when using an application. Such a clause can help your startup to avoid a class action lawsuit. What you choose to put in your terms of service generally becomes a contractual agreement with your users.
2 Legal Actions Every App Developer Should Take Right Now - UpCounsel Blog. If you are an app developer with a live, or about to be released app, these past couple months have been important from a legal liability perspective.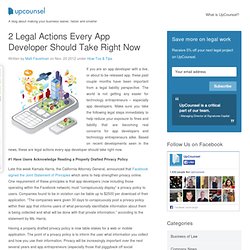 The world is not getting any easier for technology entrepreneurs – especially app developers. Make sure you take the following legal steps immediately to help reduce your exposure to fines and liability that are becoming real concerns for app developers and technology entrepreneurs alike. Based on recent developments seen in the news, these are legal actions every app developer should take right now. #1 Have Users Acknowledge Reading a Properly Drafted Privacy Policy. How do I create a Terms of Service for my Application. Terms of Service. Store If you choose to register to use the 500px Store (the "Store") the following terms and conditions apply in addition to the general Terms.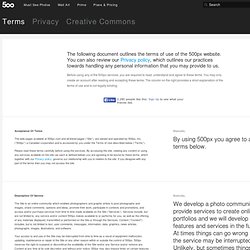 Throughout these Terms, a reference to the 'purchase' or 'sale'(or similar words) of Store Images (as defined below) means the purchase or sale of a Customer License (as defined below) to use a Store Image. Have a .com web address? Know the legal risks. Impossible.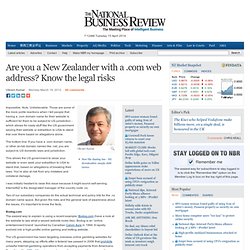 Nuts. Unbelievable. Those are some of the more polite reactions when I tell people that having a .com domain name for their website is sufficient for them to be subject to US jurisdiction - which allows for nasty stuff like the US government seizing their website or extradition to USA to stand trial over there based on allegations alone. The bottom line: If you have a .com domain name, or other at-risk domain names like .net, you are subject to US domestic laws and jurisdiction. Torrent Search - Legal notice. PlainSite :: The law in plain sight. Terms of Service. The gist: We (the folks at Automattic) run a blog and web site hosting service called WordPress.com and would love for you to use it.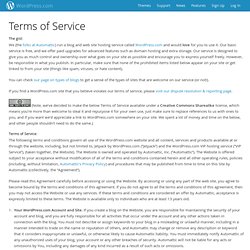 Our basic service is free, and we offer paid upgrades for advanced features such as domain hosting and extra storage. Our service is designed to give you as much control and ownership over what goes on your site as possible and encourage you to express yourself freely. However, be responsible in what you publish. In particular, make sure that none of the prohibited items listed below appear on your site or get linked to from your site (things like spam, viruses, or hate content). Privacy Policy. Your privacy is critically important to us.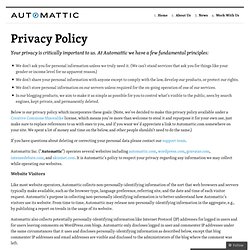 At Automattic we have a few fundamental principles: We don't ask you for personal information unless we truly need it.
---