IT Security/Etc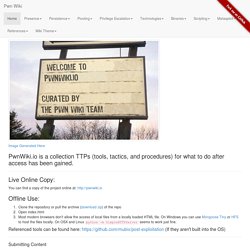 You can find a copy of the project online at: http://PwnWiki.io We want/need your help! Please contribute to this project is via GitHub (https://github.com/pwnwiki/pwnwiki.github.io). That allows us to get your project-ready content incorporated into the wiki fast. We realize that not everyone can/wants to submit content via GitHub and that's cool.
PwnWiki.io
Glenn Grant | GIAC Certification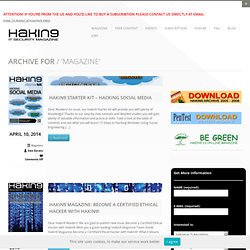 New Hakin9′s Malware Pack – 372 pages of pure Malware Knowledge! Dear Readers, Our extra package contains 317 pages of advanced knowledge on malware. How to protect against viruses, how not to let others intrude your system.
Magazine | IT Security Magazine about hacking & hackers techniques - Hakin9
Welcome to the Penetration Testing Execution Standard homepage. This will be the ultimate home for the penetration testing execution standard. For more information on what this standard is, please visit: The Penetration Testing Execution Standard: FAQ High Level Organization of the Standard
The Penetration Testing Execution Standard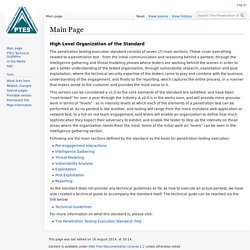 Hackery - Open Penetration Testing Bookmarks Collection : OWASP Mantra - Free and Open Source Browser based Security Framework
...is just that, a collection of handy bookmarks I initially collected that aid me in my day to day work or I find in the course of research. They are not all inclusive and some sections need to be parsed but they are all good reference materials. I find having this Hackery folder in Firefox an easy way to reference syntax, tricks, methods, and generally facilitate and organize research. Opening it up to everyone will facilitate a knowledge transfer.
pentest-bookmarks - Open Penetration Testing Bookmarks Collection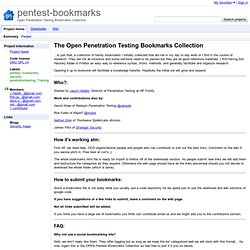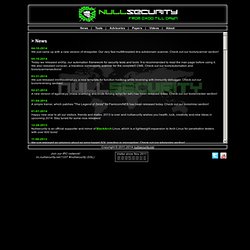 nullsecurity team
04-10-2014 We just came up with a new version of dnsspider. Our very fast multithreaded dns subdomain scanner. Check out our tools/scanner section! 04-10-2014 Today we released sn00p, our automation framework for security tests and tools. It is recommended to read the man page before using it. We also released conscan, a blackbox vulnerability scanner for the concrete5 CMS.
s Password Cracking Dictionary (Pay what you want!)
Organisations/Conferences | IT Security
Certifications | IT Security
Training/Learning | IT Security
Hackables/CTF/Games/Etc | IT Security
Reverse Engineering/Etc | IT Security
Malware/Malware Analysis/Etc | IT Security
Exploits/Etc | IT Security
Web/Web Services/Etc | IT Security
Mobile/iOS/Android/Etc | IT Security
OSINT/Open Source Intelligence | IT Security
Blogs/Podcasts/Etc | IT Security
Security/Authentication | Technology Topics
Penetration Testing/Ethical Hacking/Etc | Jobs/Etc