Css
COLOURlovers :: Color Trends + Palettes. Introduction - In search of the One True Layout. Pure CSS-based layouts have come a long way but they still have shortcomings [2] that fail to address certain design goals without compromising the true separation of content and presentation.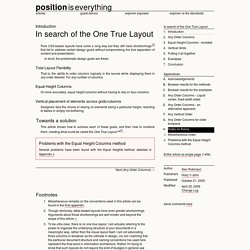 In short, the problematic design goals are these: Total Layout Flexibility. Script.aculo.us - web 2.0 javascript. Best Web Gallery - CSS & Flash Design Inspiration. 53 CSS-Techniques You Couldn't Live Without. Advertisement CSS is important.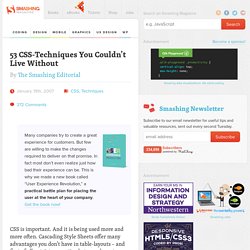 And it is being used more and more often. Cascading Style Sheets offer many advantages you don't have in table-layouts – and first of all a strict separation between layout, or design of the page, and the information, presented on the page. Thus the design of pages can be easily changed, just replacing a css-file with another one.
Cornershop - Rounded Graphics for CSS Box Corners. This page is for creating rounded corner graphics to use in your website design.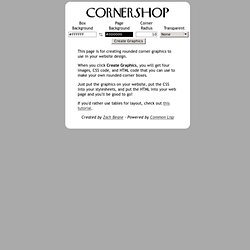 When you click Create Graphics, you will get four images, CSS code, and HTML code that you can use to make your own rounded-corner boxes. Just put the graphics on your website, put the CSS into your stylesheets, and put the HTML into your web page and you'll be good to go! If you'd rather use tables for layout, check out this tutorial. Created by Zach Beane · Powered by Common Lisp.
---