Interesting Misc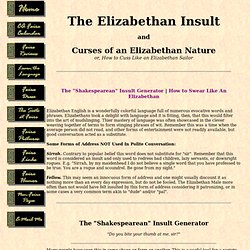 Sirrah. Contrary to popular belief this word does not substitute for "sir". Remember that this word is considered an insult and only used to redress bad children, lazy servants, or downright rogues.
The Elizabethan Insult
I tweeted yesterday that I'd received the most interesting email I'd ever been sent. I think that's still true. As a Planner, I'm supposed to be interested in everything.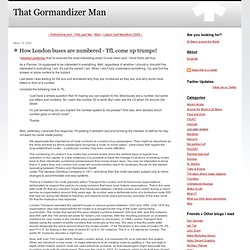 That Gormandizer Man: How London buses are numbered - TfL come up trumps!
Stephen Fry In America 1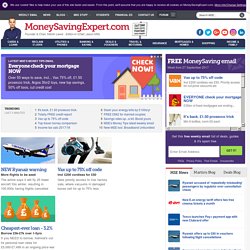 Who is Martin Lewis? Martin Lewis, Money Saving Expert, is an award-winning campaigning TV and radio presenter, newspaper columnist and best-selling author. An ultra-specialised journalist, focusing on cutting bills without cutting back, he founded MoneySavingExpert.com in 2003 for £100. It's now the UK's biggest money site, with over 13m monthly users and 7m receiving the Martin's Money Tips email – and he remains its full-time Editor-In-Chief.
Important! How this site works We think it's important you understand the strengths and limitations of the site.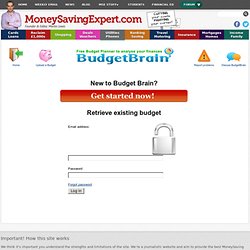 Budget Brain: the ultimate free budget planner :: Budget Brain: the ultimate free budget planner
† Car Insurance: 51% of consumers could save up to £220 (exc legal), Consumer Intelligence Feb 2014; Home Insurance: 51% of consumers could save up to £70 (exc legal), Consumer Intelligence Feb 2014; Energy: Up to 51% can save at least £174. December 2013. MoneySuperMarket Data 2013; Credit cards: Save on average £276.84 based on best balance transfer card from MoneySuperMarket vs. market average rate of 18.13% (Source BoE), with average balance transfer of £2,141 (Source BBA). Min repayment of 2.5% over 12 months. Dec 2013; Loans: save on average £103.60 per year, based on MoneySuperMarket best buy loan vs. market average loan rate of 10.28% (Source BoE).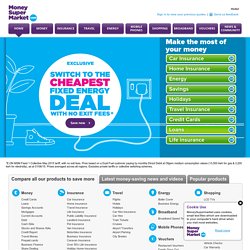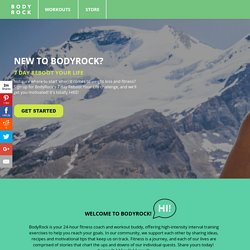 Warning: Invalid argument supplied for foreach() in /var/www/sites/bodyrock.tv/htdocs/wp-content/plugins/bodyrock.tv/wo-breakdown.php on line 528 Hi Bodyrockers, The mountain of success is littered with the fallen. We all leave base-camp together full of hope and piss and vinegar. This time will be different we tell ourselves. 24 hours into our climb 50% of people fall away for one reason or another.
All The World's a Stage
Another year. Another festival. Another month of debauchery, drinking and shows.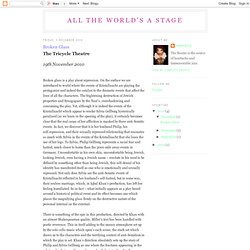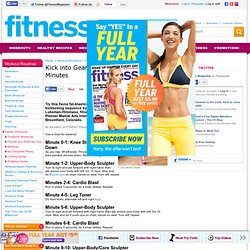 Kick into Gear: Burn 175 Calories in 15 Minutes
Try this fierce fat-blasting cardio kickboxing sequence by Shannon Lukeman-Hiromasa, fitness director for Premier Martial Arts International in Broomfield, Colorado. Use a chair for balance. Minute 0-1: Knee Strikes Squat Down
Grâce à la numérologie, nous vous proposons quotidiennement un horoscope personnalisé pour votre prénom. Amour, argent, Forme : Découvrez ce qui vous attend pour la journée. En Bonus tous les jours retrouver votre chiffre de chance qui vous accompagnera jusqu'à demain...Horoscope des prénoms Voici l'horoscope du prénom : Pour les couples: Votre partenaire est plus qu'amoureux que jamais.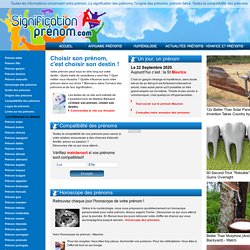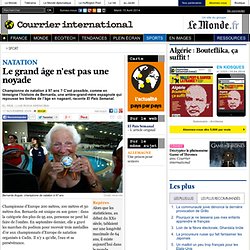 NATATION • Le grand âge n'est pas une noyade | Courrier internat
Championne de natation à 97 ans ? C'est possible, comme en témoigne l'histoire de Bernarda, une arrière-grand-mère espagnole qui repousse les limites de l'âge en nageant, raconte El País Semanal. Repères Alors que les statisticiens, au début du XXe siècle, tablaient sur une longévité maximale de 64 ans, il existe aujourd'hui dans le monde quelque 200 000 personnes ayant dépassé les 110 ans. La France en compte plus de 20 000.
CULTURE MUSICALE • Une baguette pour changer le monde | Courrier
Le jeune chef d'orchestre Vénézuélien, Gustavo Dudamel, est le nouveau visage d'El Sistema, une méthode d'enseignement de la musique à destination des plus pauvres. Ceux qui croient que les chanteuses d'opéra ­doivent être grosses, les pianistes romantiques et les chefs d'orchestre irascibles, despotiques et dépourvus de sens de l'humour, ceux-là resteraient sans voix face à la personnalité du Vénézuélien Gustavo Dudamel. Voilà un maestro qui ne se prend pas au sérieux.
Cela ne vous a sans doute pas échappé, depuis quelques semaines, me voilà à l'affiche d'une campagne de pub pour le samsung NX11, l'appareil que j'utilise pour prendre mes photos (et oui c'est mon mauvais profil). Peu de temps après la naissance du blog, celui ci a connu le succès que vous savez et parmi les nombreuses propositions que j'ai eu, j'en ai choisi deux, celle ci, et la collaboration avec Métro. Au début, je prenais mes photos avec le NX10 de la même gamme, et depuis j'utilise le petit dernier et vu que je n'y connais absolument rien à la photo, je vous laisse juges de son efficacité, en tout cas moi il me convient bien.