Articulate
How to Design the Visual Elements for Interactive Elearning Courses. In a previous post, I showed that when you use rapid elearning tools (as well as PowerPoint) you can build effective elearning courses.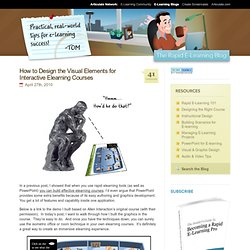 I'd even argue that PowerPoint provides some extra benefits because of its easy authoring and graphics development. You get a lot of features and capability inside one application. Below is a link to the demo I built based on Allen Interaction's original course (with their permission). In today's post, I want to walk through how I built the graphics in the course. They're easy to do. Engage. The Rapid eLearning Blog. Linear, click-and-read courses are pretty common and usually held up as the worst of online training and cause of boring courses because they're mostly information dumps with little focus on how the learner can actually use the course content.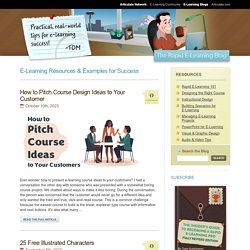 They may be the worst of elearning. Or perhaps not. Let's review some common reasons why these types of online courses exist and what we can do to fix them so that you're not producing ... Read the full article.
---