Articulate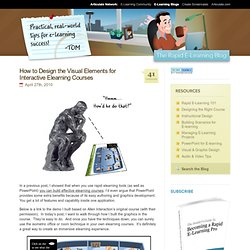 In a previous post, I showed that when you use rapid elearning tools (as well as PowerPoint) you can build effective elearning courses. I'd even argue that PowerPoint provides some extra benefits because of its easy authoring and graphics development.
How to Design the Visual Elements for Interactive Elearning Courses
Engage
Here's a recap of posts from 2013 where I shared free templates or assets to help you build your online training courses.