AR
CSS3 Graph Animation
Data Visualization Business
Infographies complexes & interactives
Розділ 1. Е-наука в умовах семантичного Грід і Веб Розділ намагається всебічно показати місце е-Науки в умовах активного розвитку Веб, Грід та семантичних технологій. Мова йде, фактично, про Грід четвертого покоління, що походить від розвинутих сервісно-орієнтованих систем та семантичного Веб. У зв'язку з цим особлива увага звертається на ключове поняття семантичних технологій – онтологію, а також – численні засоби розробки онтологій та методику такої розробки.
Grid - Поддержка Grid проекта со стороны государства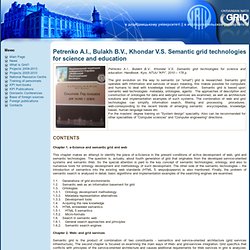 revisit is a real–time visualization of twitter messages (tweets) around a specific topic. You can create your own twitter wall at a conference or an ambient display at your company or whatever use you come up with. In contrast to other twitter stream tools, it provides a sense of the temporal dynamics in the twitter stream, and emphasizes the conversational threads established by retweets and @replies. revisit aligns all twitter messages for your search terms along a timeline. Tweets that receive more attention – in form of retweets or @replies – go to the center of the stream and are displayed larger. The above image displays the visual summary of the see5 conference , where revisit was first presented publicly.