Stumbles
marcadas para leer con tranquilidad Jan 15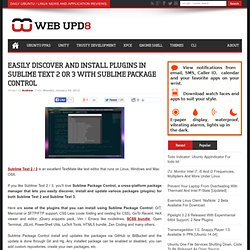 Easily Discover And Install Plugins In Sublime Text 2 With Sublime Package Control
Sublime Text 2 / 3 is an excellent TextMate-like text editor that runs on Linux, Windows and Mac OSX. If you like Sublime Text 2 / 3, you'll love Sublime Package Control, a cross-platform package manager that lets you easily discover, install and update various packages (plugins) for both Sublime Text 2 and Sublime Text 3. Here are some of the plugins that you can install using Sublime Package Control: GIT, Mercurial or SFTP/FTP support, CSS Less (code folding and nesting for CSS), GoTo Recent, HeX viewer and editor, jQuery snippets pack, Vim / Emacs like modelines, SCSS bundle, Open Terminal, JSLint, PowerShell Utils, LaTeX Tools, HTML5 bundle, Zen Coding and many others.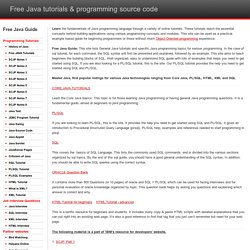 Learn the fundamentals of Java programming language through a variety of online tutorials. These tutorials teach the essential concepts behind building applications using various programming concepts and modules. This site can be used as a practical, example based guide for beginning programmers or those without much Object Oriented programming experience. Free Java Guide: This site lists General Java tutorials and specific Java programming topics for serious programming.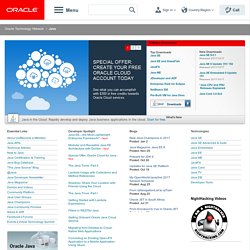 Oracle Oracle Oracle Technology Network > Java Challenge
1. 7 of them are available via YouTube. 2. iTunes is free. It's clunky, but who cares? Do you somehow lose geek-cred just by installing it specifically for this? I thought geeks geeked out on downloading entire programs just to be able to use it for a single solitary function and then discarding it when done.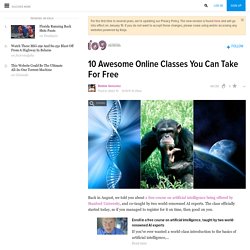 pearltrees-Getting started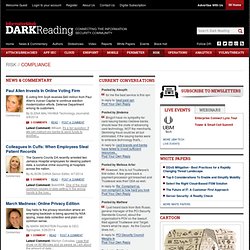 Commentary E-voting firm Scytl receives $40 million from Paul Allen's Vulcan Capital to continue election modernization efforts. Defense Department among its customers.By Elena Malykhina Technology Journalist, 4/9/2014