Home & Design
Passive Solar Design. Casa levantada no nível das árvores interage com a vida na Mata Atlântica - 25/01/2012 - Projetos de Arquitetura - UOL Casa e Imóveis. Quirky Cordies Desktop Cable Management for power cords and charging accessory cables (Metal): Electronics. How to Make Your Own Touchscreen Heads Up Display. Green Home - Solar Powered Lights, Fans, and Electronics. The Solar Lights Site is Your Complete Solar Lighting Resource. Solar Power Car. Does The Solar Power Car Exist?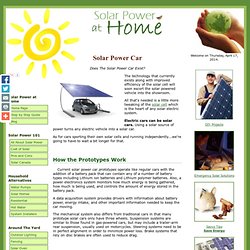 The technology that currently exists along with improved efficiency of the solar cell will soon escort the solar powered vehicle into the showroom. All that's needed is a little more tweaking of the solar cell which is the heart of any solar electric system. Electric cars can be solar cars. Solar Charger, Solar Backpack, Solar Laptop Charger, USB Battery.
Suntrica solar-powered chargers: pocket-sized energy sources. The Suntrica Solar Badge offers avid adventurers a way to charge their personal devices Image Gallery (4 images) May 1, 2009 The Suntrica SolarBadge and the SolarStrap are pocket-sized, durable and lightweight solar-charging devices with a flexible design that's durable enough to withstand harsh environments and versatile enough to be worn on various parts of your body or your backpack.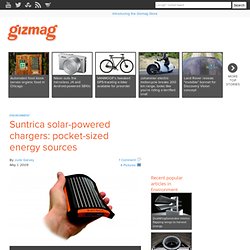 Using a flexible thin-film panel, the devices store the Sun's energy internal battery which can be used immediately or later in the day to charge mobile phones, digital cameras or MP3 players. The battery offers a service voltage of five volts and can also be charged via mains power or USB. "How to make a solar power generator". Using parts easily available from the internet (see helpful links) and your local stores, you can make a small solar power generator for $250 to $300.
Great for rolling blackouts, life outside the power grid, or the coming zombie apocalypse. Power your computer, modem, dvd, tv, cameras, lights, fans, or DC appliances anywhere you go. Use in cabins, boats, tents, archaeological digs, or while travelling throughout the third world. Have one in the office store room in case of power failures in your highrise. TreeHugger. Home Styles Bali Hai Outdoor Bar Stool, Natural Teak: Patio Furniture & Decor.
Create an island oasis in your own backyard with the Home Styles Bali Hai Outdoor Bar Stool.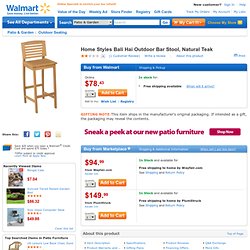 The Home Styles Bar Stool in natural teak showcases an island-inspired design in a versatile, natural finish and construction of eco-friendly, plantation-grown Shorea wood that is known for its exceptional durability and natural resistance to water. This Home Styles Bali Hai Outdoor Bar Stool is designed to provide endless hours of outdoor entertainment use. Arc shaping in the back legs and a contoured seat imparts a slightly modern touch to the overall traditional slat design.
---