Software
Apple's Mistake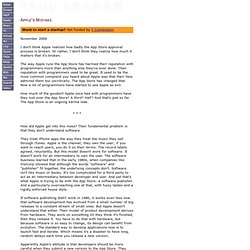 November 2009 I don't think Apple realizes how badly the App Store approval process is broken. Or rather, I don't think they realize how much it matters that it's broken.
Graphic Applications ACDSee File:Imgv.png Imgv is a unique and feature rich Image Viewer. It is released as free software with full source code.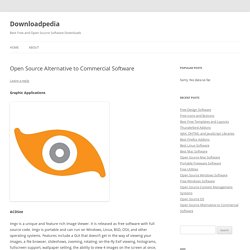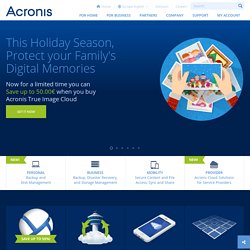 Synch and share with Acronis Cloud Secure Offsite Backup for Workstations, Servers & VMs Full Data Protection with Corporate Cloud Backup Easy as
Backup software for data backup and disaster recovery in Windows
What Elgg gets right | Radagast Solutions
The open source social networking application Elgg has been around for a while now. Many schools and other groups have taken advantage of the free showcase Elgg.net site while others have set up their own Elgg sites over at Elgg Spaces. I've looked at many different social networking applications, both proprietory and open source, but I keep coming back to Elgg because of the number of things Elgg gets right.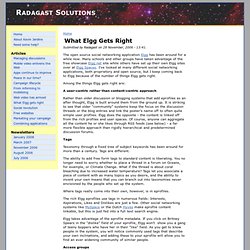 Technology Review: The Problem with Programming
New version was posted on 15th of April 2005! X11 is better for fingers. Copy with mouse.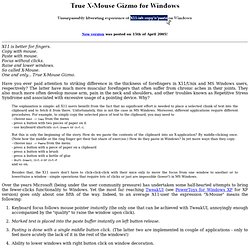 True X-Mouse Gizmo for Window
Secrets of Firefox 1.0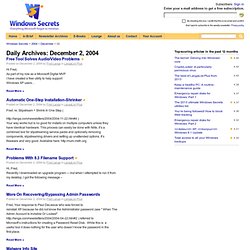 Free Tool Solves Audio/Video Problems Hi Fred, As part of my role as a Microsoft Digital MVP I have created a free utility to help support Windows XP users… Read More Automatic One-Step Installation-Shrinker
Is Windows still relevant? | Perspectives
Usable Freeware - Utilitie
非日常を演出 男の人はもちろんエロ動画が好きですよね! オナニーするときはこれと決めている人も多いでしょう。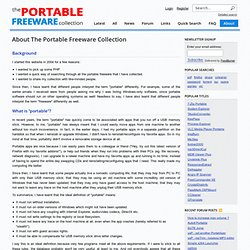 The Portable Freeware Collection
Background I started this website in 2004 for a few reasons: I wanted to pick up some PHP.I wanted a quick way of searching through all the portable freeware that I have collected.I wanted to share my collection with like-minded people. Since then, I have learnt that different people interpret the term "portable" differently. For example, some of the earlier emails I received were from people asking me why I was listing Windows-only software, since portable software should run on other operating systems as well! Needless to say, I have also learnt that different people interpret the term "freeware" differently as well.
Share this .COM deal with friends! Over 53 million domains registered. Copyright © 1999-2012 GoDaddy.com, LLC. All rights reserved. *One FREE .COM, .CO, .NET or .ORG with purchase of a new 12-, 24- or 36-month website builder plan. Plus ICANN fee of $0.18 per domain name per year.
The 46 Best-ever Freeware Utilitie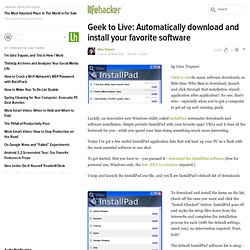 SExpand by Gina Trapani Click to viewSo many software downloads, so little time.
Geek to Live: Automatically download and
BCB Contest Result
Three entrants were chosen to receive our Top Prize Package (which included Borland's BDS 2006 Enterprise Edition): Darko Kalinic & Nikola Labovic, Detlef Meyer-Eltz, and Sasko Usinov. Darko Kalinic & Nikola Labovic won for their very professional SQL database management tool, SQL Advanced Manager: Detlef Meyer-Eltz won for a pair of submissions using his excellent TextTransformer algorithms: Sasko Usinov won for a very impressive new Programming IDE called SkyIDE. While it still has some rough edges, it looks to make a real splash:
compiled by SpikeSource
Black Duck plans to integrate the SpikeSource products and services into its offerings. The SpikeForge open source projects are being migrated to other forges, and we're encouraging members of the Developer Zone to join developers on Ohloh.net, Black Duck's open source project directory and community. As mentioned on the Developer Zone homepage, we will be discontinuing the SpikeSource website and the Developer Zone starting January 9, 2011. If you are looking another Spikeforge project, please contact us at spikesource@blackducksoftware.com.
Bad Design is Harder than Good Design
I would like to introduce League of Legends (LoL) to those who don't know about it, but are planning to play it. The Beginning LoL doesn't require high PC specifications. It requires a DirectX 9.0 VGA, 2 GHz processor, 1 GB RAM, 750 MB space, and an internet connection.
An App A Day
Web programs written by experts This is a list of the programs we have available. Files are available in Unix .tar.gz and DOS/Windows .zip formats. FormMail nms FormMail is a drop-in replacement for Matt Wright's FormMail script.
nms - web programs written by expert
The Most Important Software Innovation
Why proprietary software is dangerous for business-critical appl
71 Resources on Open Source Applications f
The Open Software Wiki - SWiK
Most Significat Bit Labs :: Exponential Po
Featured Article - One Year Report - DonationCoder.com
App's Apps
obby - Trac
dasht
Post New Requests Here