Software
Clara OCR
Apple's Mistake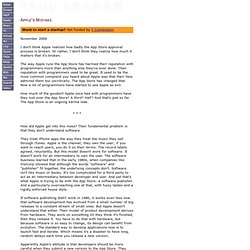 November 2009 I don't think Apple realizes how badly the App Store approval process is broken. Or rather, I don't think they realize how much it matters that it's broken.
Graphic Applications ACDSee File:Imgv.png Imgv is a unique and feature rich Image Viewer. It is released as free software with full source code.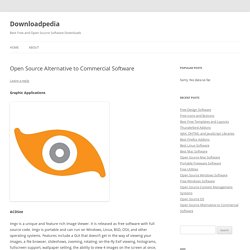 Backup software for data backup and disaster recovery in Windows
What Elgg gets right | Radagast Solutions
The open source social networking application Elgg has been around for a while now. Many schools and other groups have taken advantage of the free showcase Elgg.net site while others have set up their own Elgg sites over at Elgg Spaces . I've looked at many different social networking applications, both proprietory and open source, but I keep coming back to Elgg because of the number of things Elgg gets right.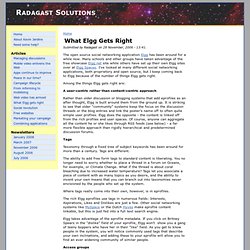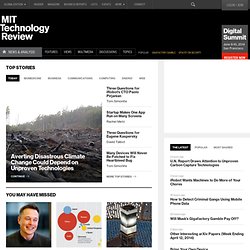 Technology Review: The Problem with Programming
In the 1980s and 90s, Bjarne Stroustrup designed and implemented the C++ programming language, which popularized object-oriented programming and influenced numerous other programming languages, including Java. C++ remains the archetypal "high level" computer language (that is, one that preserves the features of natural, human language), and it is still used by millions of programmers. Many of the systems and applications of the PC and Internet eras were written in C++. For all that, the language remains controversial, largely because it is notoriously difficult to learn and use, and also because Stroustrup's design allows developers to make serious programming mistakes in the interest of preserving their freedom. Stroustrup, for many years a researcher at AT&T Bell Labs, is now a professor of computer science in the Department of Engineering, at Texas A&M University, near Houston.
New version was posted on 15th of April 2005! X11 is better for fingers. Copy with mouse.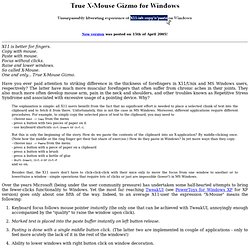 True X-Mouse Gizmo for Window
Secrets of Firefox 1.0
Microsoft Vista feature presentation - Go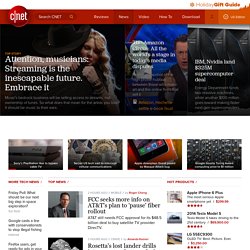 In the increasingly Google-YouTube-Web 2.0 age we inhabit, it's become fashionable to dismiss Windows as a relic. Ask around the office. You'll hear the Gen Xers sneer about how Microsoft's operating system is, well, so yesterday.
Is Windows still relevant? | Perspectives
Usable Freeware - Utilitie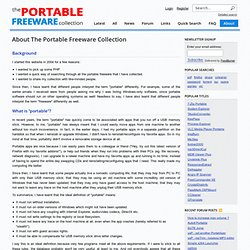 The Portable Freeware Collection
Background I started this website in 2004 for a few reasons: I wanted to pick up some PHP. I wanted a quick way of searching through all the portable freeware that I have collected. I wanted to share my collection with like-minded people. Since then, I have learnt that different people interpret the term "portable" differently.
Share this .COM deal with friends! Over 53 million domains registered. Copyright © 1999-2012 GoDaddy.com, LLC. All rights reserved. *One FREE .COM, .CO, .NET or .ORG with purchase of a new 12-, 24- or 36-month website builder plan. Plus ICANN fee of $0.18 per domain name per year.
The 46 Best-ever Freeware Utilitie
Jons Technical Support Favourites Freeware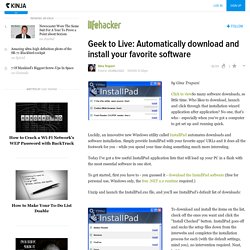 by Gina Trapani Click to view So many software downloads, so little time. Who likes to download, launch and click through that installation wizard application after application? No one, that's who - especially when you've got a computer to get set up and running quick.
Geek to Live: Automatically download and
BCB Contest Result
Three entrants were chosen to receive our Top Prize Package (which included Borland's BDS 2006 Enterprise Edition): Darko Kalinic & Nikola Labovic, Detlef Meyer-Eltz, and Sasko Usinov. Darko Kalinic & Nikola Labovic won for their very professional SQL database management tool, SQL Advanced Manager: Detlef Meyer-Eltz won for a pair of submissions using his excellent TextTransformer algorithms: Sasko Usinov won for a very impressive new Programming IDE called SkyIDE. While it still has some rough edges, it looks to make a real splash: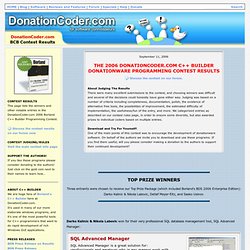 compiled by SpikeSource
Black Duck plans to integrate the SpikeSource products and services into its offerings. The SpikeForge open source projects are being migrated to other forges, and we're encouraging members of the Developer Zone to join developers on Ohloh.net , Black Duck's open source project directory and community. As mentioned on the Developer Zone homepage, we will be discontinuing the SpikeSource website and the Developer Zone starting January 9, 2011. If you are looking another Spikeforge project, please contact us at spikesource@blackducksoftware.com .
Bad Design is Harder than Good Design
An App A Day
Web programs written by experts This is a list of the programs we have available. Files are available in Unix .tar.gz and DOS/Windows .zip formats. FormMail nms FormMail is a drop-in replacement for Matt Wright's FormMail script.
nms - web programs written by expert
Unison is a file-synchronization tool for Unix and Windows. It allows two replicas of a collection of files and directories to be stored on different hosts (or different disks on the same host), modified separately, and then brought up to date by propagating the changes in each replica to the other. Unison shares a number of features with tools such as configuration management packages ( CVS , PRCS , Subversion , BitKeeper , etc.), distributed filesystems ( Coda , etc.), uni-directional mirroring utilities ( rsync , etc.), and other synchronizers ( Intellisync , Reconcile , etc). However, there are several points where it differs:
The Most Important Software Innovation
David A. Wheeler First version 2001-08-01; Revised 2012-09-05 Too many people confuse software innovations with other factors, such as the increasing speed of computer and network hardware. This paper tries to end the confusion by identifying the most important innovations in software, removing hardware advances and products that didn't embody significant new software innovations. This paper presents its criteria for the most important software innovations and sources , the software innovations themselves , discusses software patents and what's not an important software innovation , and then closes with Conclusions .
A software development process , also known as a software development life-cycle (SDLC) , is a structure imposed on the development of a software product . Similar terms include software life cycle and software process . It is often considered a subset of systems development life cycle .
Why proprietary software is dangerous for business-critical appl
71 Resources on Open Source Applications f
The Open Software Wiki - SWiK
StopBadware.org
Most Significat Bit Labs :: Exponential Po
Featured Article - One Year Report - DonationCoder.com
App's Apps
obby - Trac
dasht
Post New Requests Here