Search
Clusty Labs
The Snippet Directory
There are some things that are hard to put in words, like a painting that you want to find out the artist of. For searches like that, try Google Goggles -- it lets you search the web using photos that you've taken on your mobile phone. So just open the Goggles app on your phone, snap a photo of that painting, and find search results all about it. Sometimes pictures really are worth a thousand words.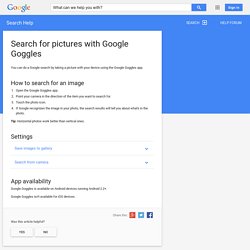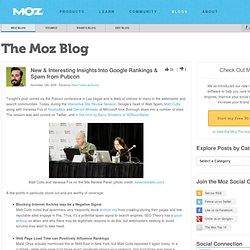 New
Tonight's post comes via the Pubcon conference in Las Vegas and is likely of interest to many in the webmaster and search communities. Today, during the Interactive Site Review Session, Google's head of Web Spam, Matt Cutts, along with Vanessa Fox of NinebyBlue and Derrick Wheeler of Microsoft took thorough dives into a number of sites. The session was well coverd on Twitter, and in live form by Barry Schwartz at SERoundtable.
Google recently opened up a preview of our new Caffeine update, and I wanted to give a little more background on this change.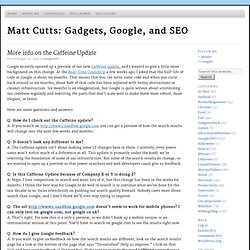 More info on the Caffeine Update
Share of Online Searches by Engine, November 2008 - Seeking Alph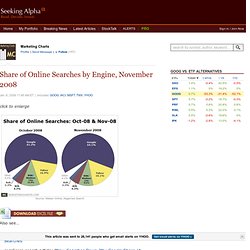 click to enlarge Also see…
Social Scan
It started with a challenge.
blog.vortexdna.com » Blog Archive » The Complete Future of Searc
Google Flirts With Evil : Venture Chronicles
Google Keeps Tweaking Its Search Engine
voice of humanity: Competing with Google
Searching beyond just Google -India Business-NEWS-The Times of I
CyberWyre & Advanced Google Tips - Making
InOrder
Sourcebank
&9658;&9658;Gooyaglehoo.com - Searchyagle
Talk Digger: The best way to find, follow
imaginestics.com