Events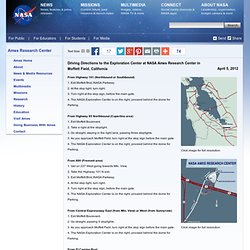 Click image for full resolution. From Highway 101 (Northbound or Southbound) 1. Exit Moffett Blvd./NASA Parkway. 2.
Driving Directions to the NASA Exploration Center
San Francisco Bay Area ACM » DM SIG Meeting
Jason Calacanis to Keynote Search Engine Strategies Chicago 2006
Silicon Valley WebGuild
BarCamp - The password is c4mp.
[11/17//2006 - version 2 adds BusyTonight, Submate, Vibely]
A Look at 19 Social Activities Services