Data
Twitter Census: Publishing the First of Many Datasets | blog.inf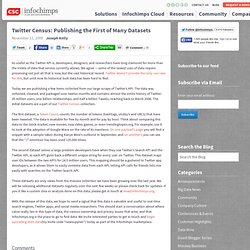 As useful as the Twitter API is, developers, designers, and researchers have long clamored for more than the trickle of data that service currently allows. We agree — some of the sexiest uses of data require processing not just all that is now, but the vast historical record. Twitter doesn't provide the only use case for this, but until now its historical bulk data has been hard to find. Today we are publishing a few items collected from our large scrape of Twitter's API.
When we first launched public data on Google.com, we wanted to make statistics easier to find and to encourage debate based on facts rather than intuition. The day after we launched, a friend who worked at the World Bank called me, her voice filled with enthusiasm, "Did you know that the World Bank also just released an API for their data?" Excited, I checked it out, and found an amazing treasure trove of statistics for most economies in the world. After some hard work and analysis, today we're happy to announce that 17 World Development Indicators (list below*) are now conveniently available to you in Google search. With today's update, you can quickly access more data with a broad range of queries. Search should be intuitive, so we've done the work to think through queries where public data will be most relevant to you.
World Bank public data, now in search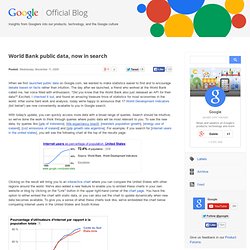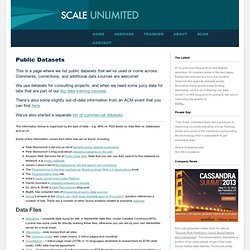 Public Datasets « Elastic Web Mining | Bixolabs
At the ACM data mining unconference this past Sunday, there was an interesting session on open/public datasets led by Paul O'Rorke. I wound up being the scribe, so below are some notes from that discussion. But before diving into the details, I'd like to point out some very complete lists of public datasets that have been compiled by Pete Skomoroch and others. Now for the list discussed during the unconference… APIs from Programming Collective Intelligence
Topic links - A to Z - Direct access to statistical data on topics of your choice. MapStats - Statistical profiles of States, counties, cities, Congressional Districts, and Federal judicial districts. Statistics by geography from U.S. agencies -- International comparisons, national, State, county, and local. Statistical reference shelf - Published collections of statistics available online including the Statistical Abstract of the United States. Search across agency websites. Agencies listed alphabetically with descriptions of the statistics they provide and links to their websites, contact information, and key statistics.