Attention
The Key To Consistent Creativity and Productivity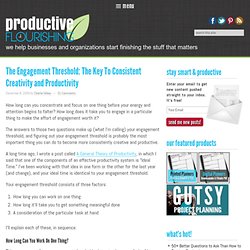 Is this your first time here? Welcome! Learn what we're about or check out our New Here?
Findings - Ear Plugs to Lasers - The Science of Concentration -
Alignment of the user's attention with his/her community :
unnamed pearl
Michael H. Goldhaber » Blog Archive » Friendship, Gossip, the Va
Michael H. Goldhaber » Blog Archive » The Earnestness of Being I
A number of people have been riffing on the how "Web 2.0" is the new vendor lock-in.
"Web 2.0" is the New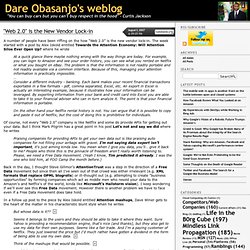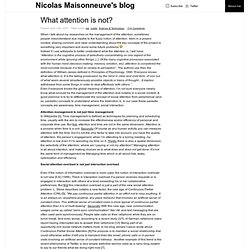 When I talk about my researches on the management of the attention, sometimes people misunderstand due maybe to the fuzzy notion of attention. Idem in a project context, sharing common and clear understanding about the key concepts of the project is something very important and avoid some future problems .
What the (social) attention is not? : nico's blog
Rough Type: Nicholas Carr's Blog: Sharecropping the long ta
A while back I wrote that Web 2.0, by putting the means of production into the hands of the masses but withholding from those same masses any ownership over the product of their work, provides an incredibly efficient mechanism to harvest the economic value of the free labor provided by the very many and concentrate it into the hands of the very few. Richard MacManus's new analysis of web traffic patterns helps illustrate the point. Despite the explosion of web content, spurred in large part by the reduction in the cost of producing and consuming that content, web traffic appears to be growing more concentrated in a few sites, not less.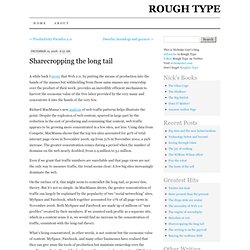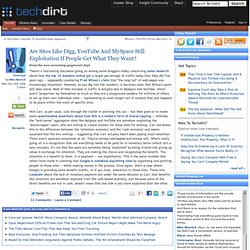 Are Sites Like Digg, YouTube And MySpace Still Exploitation If P
There's a fascinating discussion going on among some bloggers today, concerning some research about how the top 10 domains online get a larger percentage of traffic today than they did five years ago -- supposedly countering Fred Wilson's claim that "the long tail" of web pages was increasingly important. However, as you dig into the numbers, it becomes clear that Wilson's point still does stand. Most of that increase in traffic is actually due to MySpace and YouTube, which aren't "properties" by themselves so much as they are a playground sandbox for millions of others to set up their own individual sites -- representing an even longer tail of content that just happens to be place within the walls of specific sites.