JavaScript
A faster tuenti. Lessons Learned in Client Side Scalability. A faster tuenti.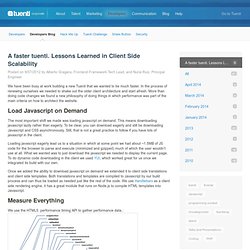 Lessons Learned in Client Side Scalability Posted on 9/07/2012 by Alberto Gragera, Frontend Framework Tech Lead, and Nuria Ruiz, Principal Engineer We have been busy at work building a new Tuenti that we wanted to be much faster. In the process of renewing ourselves we needed to shake out the older client architecture and start afresh. Dart : Structured web programming. Google Dart to "ultimately ... replace JavaScript" The following keynote will be held at the GOTO Aarhus 2011 Conference on Monday, Oct. 10, 2011: "Dart, a new programming language for structured web programming" This post explains what Dart is all about and how it relates to JavaScript.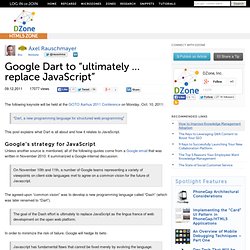 Google's strategy for JavaScript Unless another source is mentioned, all of the following quotes come from a Google email that was written in November 2010. It summarized a Google-internal discussion:
GWT
Java Non-blocking Servers, and What I Expect node.js to do if it is to Become Mature. Node.js is getting a lot of attention at the moment.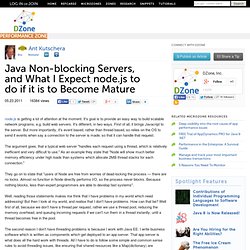 It's goal is to provide an easy way to build scalable network programs, e.g. build web servers. It's different, in two ways. Javascript PC Emulator. Jsmin-ant-task - A custom task for Apache Ant which acts as an interface to the JSMin program. A custom task for Apache Ant which acts as an interface to the JSMin program.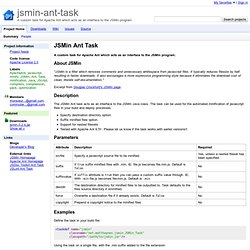 About JSMin "JSMin is a filter which removes comments and unnecessary whitespace from javascript files. JPEGclub.org. Jpegoptim | freshmeat.net. Release Notes: Many minor fixes and enhancements, including XMP marker support.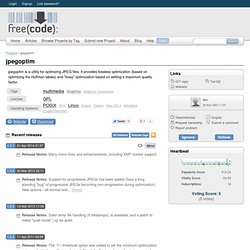 Release Notes: Support for progressive JPEGs has been added (fixes a long standing "bug" of progressive JPEGs becoming non-progressive during optimization). New options --all-normal and... --all-progressive for converting JPEGs to non-progressive and progressive. A new -S / --size option to set the target size for the output file Release Notes: Safer temp file handling (if mkstemps() is available, and a patch to make "quiet mode" (-q) be quiet.
OptiPNG Home Page. Minify using an ANT target « Dave's Blogs. Manually minify files is doable when the files are not changed frequently and you do not have many files to minify.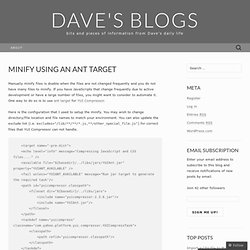 If you have JavaScripts that change frequently due to active development or have a large number of files, you might want to consider to automate it. One way to do so is to use ant target for YUI Compressor. jQuery: The Write Less, Do More, JavaScript Library. The "joy" of asynchronous programming - TheServerSide.com. One of the reasons Java became popular was the introduction of primitives in the language itself for the management of threads such as the synchronized keyword.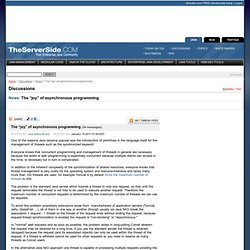 Everyone knows that concurrent programming and management of threads in general are necessary because the world of web programming is essentially concurrent because multiple clients can access in the time, is necessary but in turn is complicated. In addition to the inherent complexity of the synchronization of shared resources, everyone knows that thread management is very costly for the operating system and resource-intensive and rarely many more than 100 threads are used, for example Tomcat 6 by default limits the maximum number of threads to 200. The problem is the standard Java servlet which bounds a thread to only one request, so that until the request terminates the thread is not free to be used to execute another request. Top 10 Client-Side Performance Problems in Web 2.0 Application Performance. Inspired by the Top 10 Performance Problems post which focuses on Server-Side performance problems taken from companies such as Zappos, Thomson, Monster and Novell I came up with the Top 10 Client-Side performance problems in Web 2.0 applications I've seen when working with our dynaTrace AJAX Edition users.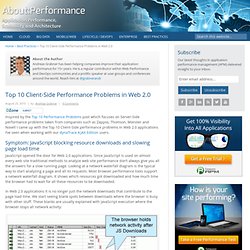 Symptom: JavaScript blocking resource downloads and slowing page load time JavaScript opened the door for Web 2.0 applications. Since JavaScript is used on almost every web site traditional methods to analyze web site performance don't always give you all the answers for a slow running page. Looking at a network waterfall diagram is the typical way to start analyzing a page and all its requests. Most browser performance tools support a network waterfall diagram.
Cross-domain. Google Web Toolkit vs. Smart GWT: Which Should You Choose? - The. Andreu you've gone from merely misleading to just absurd.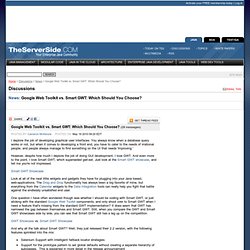 Yes, there are 3 standard SmartGWT editions and one custom license package (Enterprise). Likewise, for Ext, there are GPL, commercial, OEM and custom licenses for ExtGWT, and some other licenses for related tools. The difference is, we at Isomorphic go out of our way to clearly answer every possible license question:
---