Extension
Security improvements and registration updates for the Google Chrome Extensions Gallery. Since we introduced extensions in Google Chrome, we focused on making the platform more robust, by continuously exposing new APIs to developers.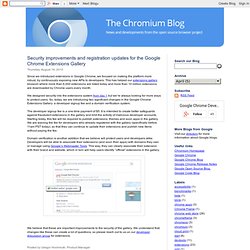 This has helped our extensions gallery blossom where more than 6,000 extensions are listed today and more than 10 million extensions are downloaded by Chrome users every month. We designed security into the extensions system from day 1 but we're always looking for more ways to protect users. So, today, we are introducing two significant changes in the Google Chrome Extensions Gallery: a developer signup fee and a domain verification system. The developer signup fee is a one-time payment of $5. 30 Must-Have Updated Firefox 3 Extensions. We've put together a list of 30+ must-have Firefox 3 extensions that we know you'll enjoy, whether you've upgraded to Firefox 3 and are looking for something new to add to your browser, or have yet to make the upgrade and are looking for a reason.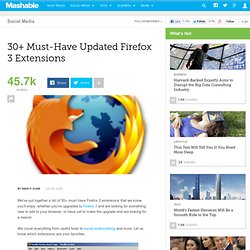 We cover everything from useful tools to social bookmarking and more. Let us know which extensions are your favorites. ColorfulTabs - Having too many tabs open can lead to a lot of confusion, but this extension will assign your tabs different colors so you can tell them apart easier. Extensions at Google I/O. Today I gave a presentation at Google I/O explaining some of the cool ideas that lie at the heart of our upcoming extension system.
For those who didn't get a chance to attend the conference, you can check out the slides, below: The actions menu, visible in full-screen mode, will let you show speaker notes. We'll also post a video of the talk as soon as it's available. Extensions %u200E(Chromium Developer Documentation)%u200E. Pearltrees - Galerie des extensions Google Chrome. §. §. Quiz spécial "On nous cache tout" pour réviser l'actu. Issue 26153 - chromium - extension api chrome.windows.get return.
Pearltrees - Galerie des extensions Google Chrome.
---