Sustainability
Women's Environmental Network - About WEN. Mission: To foster a strong community of women and enhance stewardship of the environment through networking and career development.
Vision: A healthy environment and a sustainable world. Values: A collaborative balance between the environment, economy and equity, and a greater engagement of the community at large on environmental issues. The Women's Environmental Network (WEN) of the has been in existence since the early 1990s and was incorporated as a 501(c)3 in 1997. News, Sports, Weather, Entertainment, Local & Lifestyle. » 2012: Time for Change - Blog. Earthship Biotecture Green Buildings. Tumbleweed Tiny House Company. » the true cost of stuff. Often we think about cutting down on what we buy because we'd like to be frugal, and save money.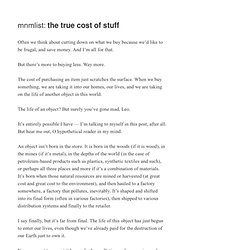 And I'm all for that. But there's more to buying less. Way more.
The Frugal Life News: Make Your Own Antimicrobial Spray. I've been making my countertop and bathroom sprays for many years.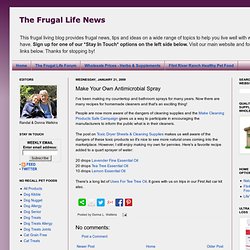 Now there are many recipes for homemade cleaners and that's an exciting thing! People are now more aware of the dangers of cleaning supplies and the Make Cleaning Products Safe Campaign gives us a way to participate in encouraging the manufacturers to inform the public what is in their cleaners. The post on Toxic Dryer Sheets & Cleaning Supplies makes us well aware of the dangers of these toxic products so it's nice to see more natural ones coming into the marketplace.
However, I still enjoy making my own for pennies. Here's a favorite recipe added to a quart sprayer of water: Cheap and natural cleaning alternatives. Want to get that icky bathroom mess tidied quickly without spraying a lot of unpronounceable substances everywhere?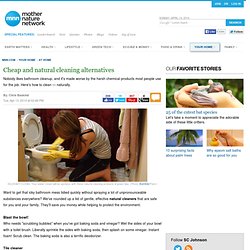 We've rounded up a list of gentle, effective natural cleaners that are safe for you and your family. They'll save you money while helping to protect the environment. Blast the bowl! Make your own disinfectant spray. Homemade Hand-Milled soap. With the holiday season growing ever closer, your party-planning mom will love a handmade gift that doubles as a special treat for guests.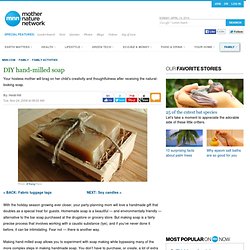 Homemade soap is a beautiful — and environmentally friendly — alternative to the bar soap purchased at the drugstore or grocery store. But making soap is a fairly precise process that involves working with a caustic substance (lye), and if you've never done it before, it can be intimidating. Fear not — there is another way. Making hand-milled soap allows you to experiment with soap making while bypassing many of the more complex steps in making handmade soap.
How to make soap at home: 5 tips. Until around 1916, making soap at home was commonplace.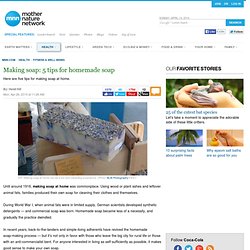 Using wood or plant ashes and leftover animal fats, families produced their own soap for cleaning their clothes and themselves. During World War I, when animal fats were in limited supply, German scientists developed synthetic detergents — and commercial soap was born. Make your own natural body lotion. If you're tired of all the chemicals and synthetic fragrances in most store-bought creams and lotions, you might want to consider making your own.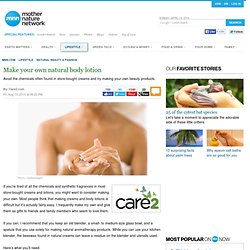 Most people think that making creams and body lotions is difficult but it's actually fairly easy. I frequently make my own and give them as gifts to friends and family members who seem to love them. If you can, I recommend that you keep an old blender, a small- to medium-size glass bowl, and a spatula that you use solely for making natural aromatherapy products. Homemade Perfume. A fine perfume can have a hundred ingredients — but sometimes simple is just as sweet.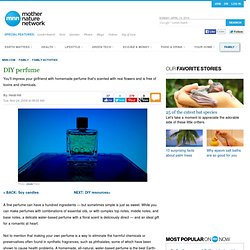 While you can make perfumes with combinations of essential oils, or with complex top notes, middle notes, and base notes, a delicate water-based perfume with a floral scent is deliciously direct — and an ideal gift for a romantic at heart. Not to mention that making your own perfume is a way to eliminate the harmful chemicals or preservatives often found in synthetic fragrances, such as phthalates, some of which have been shown to cause health problems. A homemade, all-natural, water-based perfume is the best Earth-friendly option. When making perfume as a gift, it's important to keep in mind the recipient's tastes and preferences. You'll want to use a highly fragrant flower to achieve a good scent, so think about which flowers your beloved enjoys.
The kitchen spa. Help your skin survive unpredictable weather with these two essential steps: exfoliation and moisturization.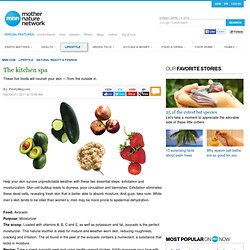 Skin-cell buildup leads to dryness, poor circulation and blemishes. Exfoliation eliminates these dead cells, revealing fresh skin that is better able to absorb moisture. And guys, take note: While men's skin tends to be oilier than women's, men may be more prone to epidermal dehydration. Food: Avocado. Green chai facial toner recipe. Q.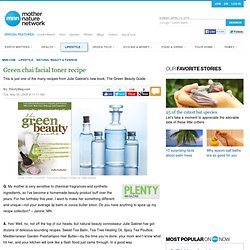 My mother is very sensitive to chemical fragrances and synthetic ingredients, so I've become a homemade beauty product buff over the years. For her birthday this year, I want to make her something different and unique—not your average lip balm or cocoa butter lotion. Natural face care from the fridge? Facials are great for the skin, as they remove free radicals, get rid of oil and do wonders for your pores and your face's natural moisture.
I, like many men and women out there, love the idea and pampering of facials, but don't trust the chemicals and artificial ingredients in the packets and mixes that are the most reasonable at the store. So I did some "Youtubing" and found a wonderful channel called MichellePhan. She has some great (and easy!) Methods of giving your face a nice spa treatment straight from nature and your kitchen. You will need: Gardening through the seasons. Eating fresh food from your garden is a bit like drinking good coffee: Once you've had it, you can never go back to drinking freeze-dried instant or to eating tasteless fare from the frozen food aisle. But what if your growing season is woefully short? (When I lived in a Colorado mountain town at an altitude of 8,750 feet, we joked that the seasons were composed of "July, August, and winter.")
If you're like most gardeners (and me), your idea of gardening is to plant enthusiastically in the spring and then burn out completely over the summer. By fall the garden is a neglected brown wasteland, and you're in the supermarket reaching for a bagged salad that sparks fear of a potential E. coli recall in your heart. Fall vegetable garden. Preparing your garden bed for winter.
---