Service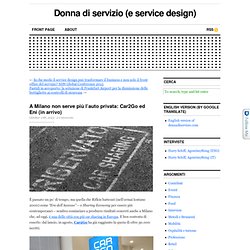 A Milano non serve più l'auto privata: Car2Go ed Eni (in arrivo)
October 17th, 2013 · 2 Comments È passato un po' di tempo, ma quella che Rifkin battezzò (nell'ormai lontano 2000) come "Era dell'Accesso" – o Sharing Economy per essere più contemporanei – sembra cominciare a produrre risultati concreti anche a Milano che, ad oggi, è una delle città con più car sharing in Europa. E ben contenta di esserlo: dal lancio, in agosto, Car2Go ha già raggiunto la quota di oltre 50.000 iscritti. Se probabilmente oggi l'utilizzo è soprattutto da parte di chi già non ha un'auto, oppure ne ha solo una per nucleo, il successo che sta riscontrando Car2Go fa pensare che, in prospettiva, la città -non solo una nicchia- possa essere disponibile a dimenticare l'affezione per auto privata (i cui costi e fastidi aumentano costantemente) e a "convertirsi" all'accesso all'auto (a beneficio di vivibilità e sostenibilità, visto che per ogni auto condivisa 15 auto non servono più).
BadgeOS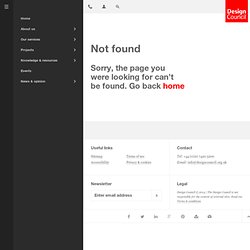 The practical experience gained in this programme will support Trafford Council to build on our successes in transforming services. It gives us the opportunity to have shared tools with local partners, enabling us to work together to change services for the benefit of local people. Anne Higgins, Corporate Director Communities and Wellbeing, Trafford Council. Transforming public services through expert mentoring This is a mentoring programme which offers independent coaching through our national network of Design Associates who can help management teams explore, uncover and develop ideas, fast-tracking those which have potential to become successful new products, services and brands.
About Public Services by Design
What is the right thing to do with your old iron, radio, and kettle? They can't go in your recyclables and taking them to the dump is a hassle. Perfectly sized for the household bin, this is where most of them end up. Valuable and finite resources getting lost to landfill. This project looks at the end of life of electrical products and aims to make the most of the material that they embody.
The Agency of Design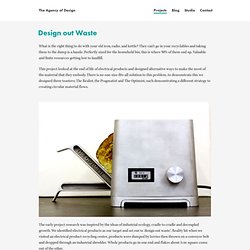 'Social innovation is my motivation' | Service design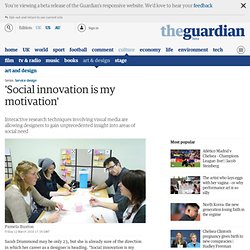 Sarah Drummond may be only 23, but she is already sure of the direction in which her career as a designer is heading. "Social innovation is my motivation. If I've got the skills to improve people's lives, why not use them for that?" by Robert Fabricant | 2:00 PM July 16, 2013 UX, as user experience is known, is the new black in business culture. Most of the executives I meet with, regardless of their industry, now promote UX as key to their product strategy. That's a big change from only five years ago, when UX wasn't on anyone's radar outside the tech world. For a designer like myself, it's easy to recognize which executives know their products intimately, and which manage from a spreadsheet.
The Rise of UX Leadership - Robert Fabricant
danielaselloni : At @CascinaCuccagna we are
nealite : Visualizing Service Design
By Elizabeth Wood - May 29, 2013 Roberta Tassi is a design researcher and interaction designer at frog Milan. As a part of her graduation thesis exploring the relationship between Communication and Service Design, Tassi developed Service Design Tools , a website that collects visualizations and other project artifacts which can be shared within the design research community. So far it has caught the attention of students, industry insiders and even the BBC.
Visualizing Service Design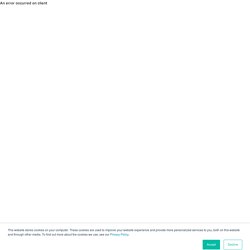 Role of social design in public services | Public Leaders Network | Guardian Professional
UK public services are gradually going digital, users are being asked to collaborate in service development and data is being made public. This is partly a natural evolution, partly provoked by the media, and partly driven by the government's open public services agenda: increase choice for citizens, release data, diversify the range of providers. Clearly, when it comes to developing new services, digitising existing ones, and understanding users, there is a role for design. Similarly, design can help in policy development at the highest level, with its ability to anticipate future scenarios and plan for them. But it must be a particular kind of design – less of the kind that comes up with new chairs, more of the kind that applies creative problem-solving processes to social and systems problems.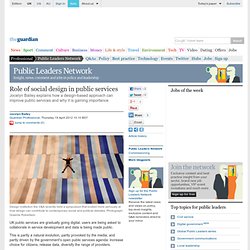 Continuing our journey through Design @ Your Service, the article below is a contribution from service thinker Luis Alt (founder of live|work in Brazil). Good read! –Tennyson Pinheiro Take a look around. It is very likely that right now you are surrounded by objects that in some way or another make your life better and more pleasant.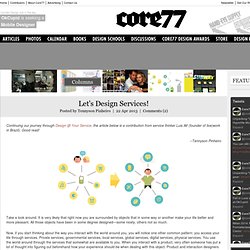 Let's Design Services!
The Social Business Model Canvas | The Accelerator
This site uses cookies to store information on your computer. Some cookies on this site are essential, and the site won't work as expected without them. These cookies are set when you submit a form, login or interact with the site by doing something that goes beyond clicking on simple links. We also use some non-essential cookies to anonymously track visitors or enhance your experience of the site. If you're not happy with this, we won't set these cookies but some nice features of the site may be unavailable.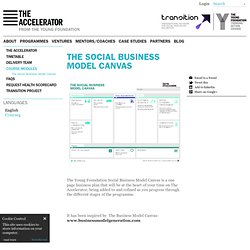 Conversations about the future of Service Design | Uscreates Blog: Points of View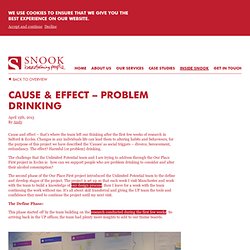 Snook: Cause & Effect - Problem Drinking - Snook: We are the how
Cause and effect – that's where the team left our thinking after the first few weeks of research in Salford & Eccles. Changes in any individuals life can lead them to altering habits and behaviours, for the purpose of this project we have described the 'Causes' as social triggers – divorce, bereavement, redundancy. The effect?
Cos'è il service design? Come si mette in pratica? Quando si usa? Perché è utile? Dove si studia?
Service Design Drinks Roma#2 - Eventbrite
We're huge fans of our soon to be San Francisco waterfront neighbors, the Exploratorium. So when we had the opportunity to help them map out their visitor experience, we jumped, ran, and flew at it. You might call the Exploratorium a science museum, but you'd be wrong. They don't quite have exhibits, as much as they have experiments. They don't have docents, they have Explainers.
Exploratorium: Mapping the Experience of Experiments
A limited number of tickets are still available for SDNC13 in Cardiff on 19th-20th November. Secure yours now and join over 400 service designers, businesses… Read Article → Do you have some time to spent in Cardiff during the Service Design Global Conference? Have a look at the New York Times article about… Read Article →
International Service Design Conference 2013 / Cardiff
Service design
One of 16 special essays on how the field of social innovation has evolved and what challenges remain ahead. What does it feel like to start a new business and encounter government red tape and bureaucracy? What will it take to design a digital platform to help the unemployed rapidly find a voluntary mentor to coach them in finding a job? How can education reform be made tangible enough to spur real change in schools across an entire nation? And, not least, how do you systematically prototype, test, and scale up public sector policy and service responses to such challenges? These are some of the questions that the Danish government's innovation unit, MindLab, has taken on during the last decade.
Design-Led Innovation in Government
#ServiceDesign News
Reports and consultations | Insight | Our work
cittadini creativi » Uno spazio di incontro tra cittadini e designer del Politecnico di Milano, ospitato da Cascina Cuccagna e patrocinato dal Consiglio di Zona 4
Service Design Books
What can Service Design do for your company?
People | Public Interest Design
Designing Better Service Experiences on Vimeo
Lab. sviluppo sistema prodotto