Guitar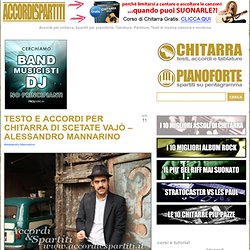 Accordi e Spartiti per Chitarra e Pianoforte
Torn è un singolo inciso nel 1995 dalla band americana di Los Angeles Ednaswap per il loro eponimo disco d'esordio e promosso come secondo singolo estratto da esso. In origine era stato composto due anni prima da alcuni membri prima ancora che la band si fosse formata e già registrato, nel 1993, in lingua danese dalla cantante Brændt (in altre parole fu oggetto di cover già due anni prima la sua uscita!). Da subito è stato oggetto di altri molteplici rifacimenti, il più celebre dei quali è quello di Natalie Imbruglia del 1997, primo singolo dal suo album di debutto Left Of The Middle. Curiosamente, la cover della Imbruglia è musicalmente pressochè ricalcata sulla versione originale danese.
chord and scale finder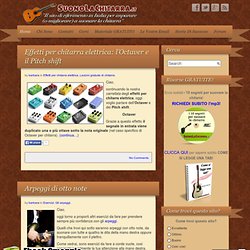 Ciao, oggi voglio parlarti di un altro argomento molto gettonato :) Come faccio a capire che pennate usare per suonare le canzoni che mi piacciono? Come faccio a variare il ritmo dato che faccio sempre le stesse pennate? Scommetto che ALMENO UNA VOLTA, da quando suoni la chitarra, ti sei posto/a questa domanda. Personalmente, essa mi ha accompagnato per tantissimo tempo soprattutto nei primi tempi che suonavo.
SuonoLaChitarra
MySongBook - The Ultimate Guitar Pro Tablature Archive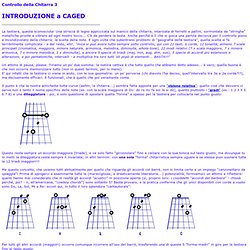 Controllo della Chitarra 03 - Introduzione a CAGED
Controllo della Chitarra 3 La tastiera, questa sconosciuta! Una striscia di legno appiccicata sul manico della chitarra, intarsiata di ferretti e pallini, sormontata da "stringhe" metalliche pronte a vibrare ad ogni nostro tocco... C'è da perdere la testa.
Download all the free jam tracks now! A lot of them anyway - 83 of the jam tracks for guitar players are available here on the one page. If you want more information on each track then go to the page that the jam track is from for music theory and other information. Taken from the Play Guitar Blues 01 page: 01 Slow Blues In A mp3 wma 02 E Shuffle mp3 wma 03 A Straight mp3 wma 04 Eb Slow Blues (E if you play guitar and tune down 1/2 a step) mp3 wma 05 Ab Shuffle (A if you play gutar and tune down 1/2 a step) mp3 wma 06 G Medium Blues mp3 wma 07 E Fast Shuffle mp3 wma 08 A Medium Blues Shuffle mp3 wma 09 A Medium Blues Shuffle Quick Change mp3 wma 10 Eb Straight Ahead Blues (E if you play guitar and tune down 1/2 a step) mp3 wma 11 B Slow Blues (C if you play guitar and tune down 1/2 a step) mp3 wma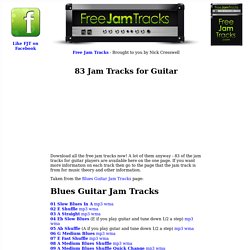 10 Ways to Play the Most Beautiful Open Chord Shapes Part I A great way to make your chord progressions and songs sound awesome is to use open chord shapes. I always love to use these chords to add some flavor to my chord progressions.