Alexcasiple
Alexander Casiple
ideator
Plan Cruncher. GKcontainer. Messages - Sneeze!
The Lean Startup TechStars Edition #leanstartup (1/3) Techstars NY Announces Inaugural Class. Techstars NY, which is more selective than the Ivy League, has chosen its first class of eleven startups.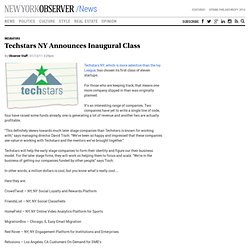 For those who are keeping track, that means one more company slipped in than was originally planned. It's an interesting range of companies. Two companies have yet to write a single line of code, four have raised some funds already, one is generating a lot of revenue and another two are actually profitable. "This definitely skews towards much later stage companies than Techstars is known for working with," says managing director David Tisch. Stealth Milewise Raises $1.5 Million To Help People Cash In On Reward Programs. Milewise is an up-and-coming New York startup that's currently in stealth mode (its service has been invite-only since at least the first time I caught wind of the company, which must have been in the summer of 2010).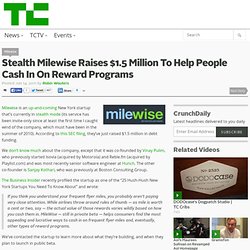 According to this SEC filing, they've just raised $1.5 million in debt funding. We don't know much about the company, except that it was co-founded by Vinay Pulim, who previously started Isovia (acquired by Motorola) and Reble.fm (acquired by Playlist.com) and was most recently senior software engineer at Hunch. FT Magazine - Facebook's grand plan for the future. Mark Zuckerberg is pacing before a crowd in Facebook's Palo Alto, California, cafeteria just before lunch on a Wednesday in November.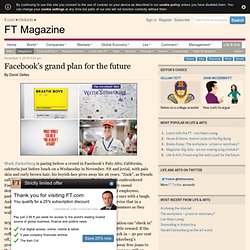 Fit and jovial, with pale skin and curly brown hair, his boyish face gives away his 26 years. "Zuck", as friends call him, is wearing what he always wears: a grey T-shirt with an embroidered Facebook logo, blue jeans and tennis shoes. With this perennially casual demeanour, he is showing off new technologies to a few hundred employees, partners and the press. "It's a good day to launch some stuff," he says with a laugh. And with that, Zuckerberg introduces Facebook Deals, a new service that in a matter of days will transform the way local businesses reach consumers as they walk down the street.
The Future Of Facebook - Forbes.com. Why Games Are the Killer App for Social Networks. Ravi Mehta is vice president of product for Viximo, where he drives the product strategy for Viximo's social game distribution platform and helps social networks monetize via social games and virtual goods.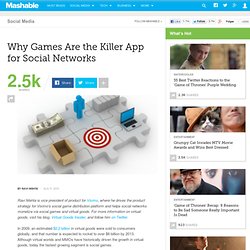 For more information on virtual goods, visit his blog, Virtual Goods Insider, and follow him on Twitter. In 2009, an estimated $2.2 billion in virtual goods were sold to consumers globally, and that number is expected to rocket to over $6 billion by 2013. Although virtual worlds and MMOs have historically driven the growth in virtual goods, today the fastest growing segment is social games. Social games not only represent a lucrative new revenue channel for social media sites but they also signal a fundamental change in the structure of the social media industry. How Online Retailers Can Leverage Facebook's Open Graph. Formerly a Principal Engineer at Amazon, Darren Vengroff is Chief Scientist at RichRelevance where he helps retailers like Overstock and Sears create a more personal shopping experience for consumers.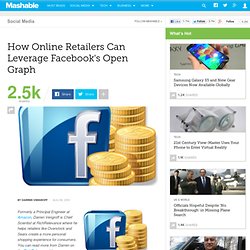 You can read more from Darren on the RichRelevance blog. Amazon and Facebook are making headlines with the launch of a new application that allows shoppers to receive product recommendations based on Facebook preferences. Once users enable this app, Amazon is able to monitor their activity on Facebook, including what pages they like, and use that information to recommend products they may be interested in purchasing. Docs for Facebook. Adam Rifkin's answer to How did Mark Zuckerberg retain 26% of equity after so many rounds of financing. Credits. Why the Social Gaming Biz is Just Heating Up. Jeremy Liew invests primarily in the Internet and mobile sectors, with a particular interest in social media, commerce, gaming, financial and methods for increasing monetization.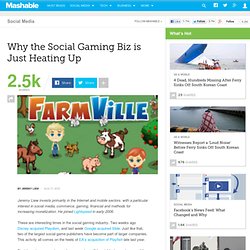 He joined Lightspeed in early 2006. These are interesting times in the social gaming industry. Two weeks ago Disney acquired Playdom, and last week Google acquired Slide. Just like that, two of the largest social game publishers have become part of larger companies. This activity all comes on the heels of EA's acquisition of Playfish late last year. The Rise Of Facebook's Valuation From 2004-2011 [Graphic] Click image to enlarge.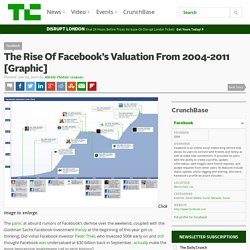 The panic at absurd rumors of Facebook's demise over the weekend, coupled with the Goldman Sachs Facebook investment frenzy at the beginning of this year got us thinking; Did initial Facebook investor Peter Thiel, who invested 500K early on and still thought Facebook was undervalued at $30 billion back in September, actually make the most impressive investment call in tech history? So artist Audrey Fukuman, our rockstar intern Rip Empson and I set out to capture what the Facebook valuation trajectory looked like. And while trudging through all the speculation on this has raised some discrepancies concerning exact valuations, (I'm seeing anything from $4.9 million to $5 million for the Thiel financing but rounded up for consistency's sake) I did my best to capture the zeitgeist through consensus, leaning heavily on reports on TechCrunch through the ages.
Facebook Shares Hit $28.26 Per Share, That's a $70+ Billion Valuation. Subject: Privileged and Confidential – SecondMarket's Facebook Auction UpdateTo Facebook market participants:Thank you to those who participated in this week's SecondMarket auction for Facebook shares.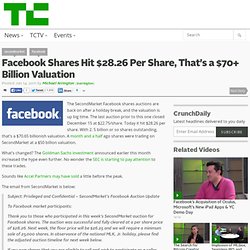 The auction was successful and fully cleared at a per share price of $28.26. Next week, the floor price will be $26.25 and we will require a minimum sale of 25,000 shares. HOW TO: Advertise Inside Social Games on Facebook. Alex Rampell is founder and CEO of TrialPay, the leading provider of transactional advertising technology that uses the efficiencies of the web to pair online shoppers with ideal offers at every stage of the purchase process.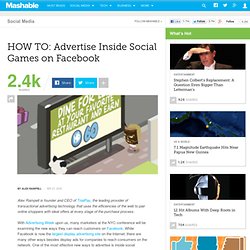 With Advertising Week upon us, many marketers at the NYC conference will be examining the new ways they can reach customers on Facebook. While Facebook is now the largest display advertising site on the Internet, there are many other ways besides display ads for companies to reach consumers on the network. One of the most effective new ways to advertise is inside social games. The Ayson Chronicles: A Life Online. Facebook to Make Credits Mandatory for All Onsite Gaming. Facebook's virtual currency, Facebook Credits, will become the official coin of the realm beginning July 1, 2011.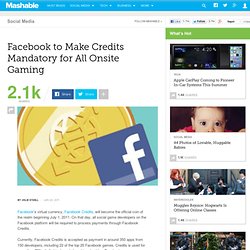 On that day, all social game developers on the Facebook platform will be required to process payments through Facebook Credits. Currently, Facebook Credits is accepted as payment in around 350 apps from 150 developers, including 22 of the top 25 Facebook games. 6 Reasons Why Social Games Are the Next Advertising Frontier. Ad spending on social gaming increased 60% since 2009, according to eMarketer. No doubt advertisers have noticed that 56 million Americans are playing social games and that the branded virtual goods market is booming .
But more than just social gaming's growing popularity has gotten attention from advertisers. Social games also represent an environment that is largely conducive to advertising. "Media buyers and advertisers are recognizing that this is what they want," explained Robert Tomkinson, Playfish's senior director of global marketing. "What they want is massive reach, they want targeting, they want performance. Five Possibilities for the Future of Facebook - PCWorld. Now that Facebook has hit the 300 million members mark and shown that its free service can rope in dough, we have to wonder what will happen to the social networking giant ten years down the road. Here are five possibilities for the future of Facebook. Evolved Gaming Interactivity Facebook has already embraced the allure of interactive gaming -- almost to the point of obnoxious saturation.
Group buying: Fad or future Facebook? Strenght in numbers: Group buying online looks set to grow in 2011. Group buying websites grew massively in 2010, but will that continue in 2011 ValuUp boss, Doug Aitken says group buying isn't a recession-driven fad and will grow in 2011 U.S. -based Groupon recently turned down reported $6 billion offer from Google to buy the company Retail analyst believes 2011 will see "continuing convergence of retail and communication channels" London, (CNN) -- Group buying websites enjoyed massive growth in 2010 grabbing new customers and the headlines as the sector's biggest player, Groupon turned down a reported $6 billion offer from Google in early December.
Facebook: One Social Graph to Rule Them All? Facebook.com founder Mark Zuckerberg smiles at Facebook headquarters in Palo Alto, Calif., in this Feb. 5, 2007, file photo. Facebook Inc. has avoided the acquisition frenzy that's gobbled up MySpace.com, YouTube and other startups, and the company is now striving to become a general portal like Yahoo, not just a social networking site for college students. AP Photo. Social graph. This animation shows the different types of relations between social objects. User Eva is a friend of Adam and Kate, though Adam and Kate are not friends themselves. Peter's photo was "liked" by many users, including Eva. Also Eva listened to the Last.fm radio and watched the video from Youtube.
Graph API Reference. Graph API Overview. Connecting to Everything You Care About. 7 Years of Facebook: A Retrospective. The Next Evolution of Facebook Platform. Technology - Why $50bn may not be much between friends. Building the Social Web Together. How Small Business Will Use Social Media in the Future. How Startups are Using Social Media for Real Results.
More Evidence That Facebook Is Nearing 600 Million Users. Connectivism: Learning as Network-Creation - 2005. Knowledge economy. Attention economy. Google Docs in Plain English. The Internet Explained. Contents. The Wealth of Networks, by Yochai Benkler. Circular Flow of Income - Macroeconomics. Augmented Reality - Explained by Common Craft (Free Version) Using Forms in Google Docs. Google Apps Quick Tour. Google Voice. Investing Money in Plain English. Borrowing Money in Plain English. Google Voice - Phone routing. Google Voice for mobile. GDP vs. GNP. The Future Internet: Service Web 3.0. World Wide Web in Plain English. Evolution Web 1.0, Web 2.0 to Web 3.0. 5 Website Designs That Blew Us Away [MASHABLE AWARDS] Social Media Marketing in 3 minutes. Wikis in Plain English. Social media. Social Networking in Plain English.
Social Media in Plain English. 5 Key Tips for a Successful Social Media Content Strategy. Making Data Relevant: The New Metrics for Social Marketing. 20 Free Social Media Icon Sets For a More Shareable Website. TCP / IP - An animated discussion. Chrome Release Cycle 12-16-2010. yEd - Graph Editor. Intro to the Semantic Web. Digitally excluded households miss out on 1bn savings a year. What Makes a Personal Contract Legally Binding?
Web 2.0.
Pearltrees videos
Help. Tom Chatfield: 7 ways video games engage the brain.
---