Check-in
Cet article a été posté par Lionel Damm le 10 mai 2011 à 14:16 Demain aura lieu le Google I/O, une conférence annuelle pour les développeurs du monde entier. Parmi les 5000 participants, Foursquare, concurrent direct de Google latitude.
Foursquare va expérimenter le NFC checkin chez Google. | Developpement Web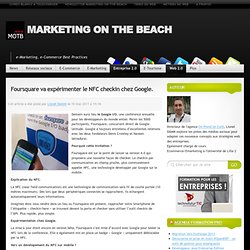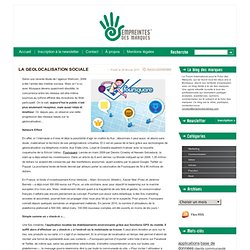 Le Blog Empreintes » LA GEOLOCALISATION SOCIALE
Selon une récente étude de l'agence Wellcom, 2009 a été l'année des médias sociaux. Mais on l'a vu avec Myspace devenu quasiment obsolète, la concurrence entre les réseaux est elle-même soumise au rythme effréné des évolutions du Web participatif. On le sait, aujourd'hui le public n'est plus seulement récepteur, mais aussi relais et émetteur.
Utilisation par les marques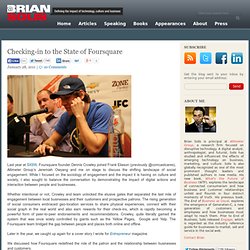 Checking-in to the State of Foursquare « Brian Solis Brian Solis
inShare547 Last year at SXSW, Foursquare founder Dennis Crowley joined Frank Eliason (previously @comcastcares), Altimeter Group's Jeremiah Owyang and me on stage to discuss the shifting landscape of social engagement. While I focused on the sociology of engagement and the impact it is having on culture and society, I also sought to balance the conversation by demonstrating the impact of digital actions and interaction between people and businesses.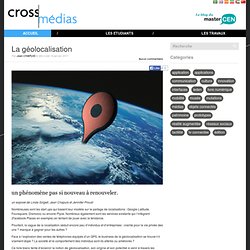 La géolocalisation
un phénomène pas si nouveau à renouveler. un exposé de Linda Szigeti, Jean Chapuis et Jennifer Proust Nombreuses sont les start ups qui basent leur modèle sur le partage de localisations : Google Latitude, Foursquare, Dismoioù ou encore Plyce.