Communication
s Guide to Network Programming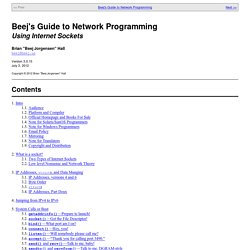 Using Internet Sockets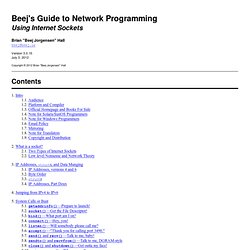 s Guide to Network Programming
Using Internet Sockets Brian "Beej Jorgensen" Hall beej@beej.us Version 3.0.15 July 3, 2012
Handle multiple socket connections with fd_set and select on Linux | Binary Tides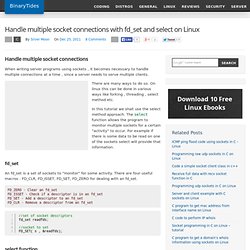 #include <stdio.h> #include <string.h> //strlen #include <stdlib.h> #include <errno.h>
So just why am I so hyped on select() ? One traditional way to write network servers is to have the main server block on accept() , waiting for a connection. Once a connection comes in, the server fork() s, the child process handles the connection and the main server is able to service new incoming requests.
The World of select()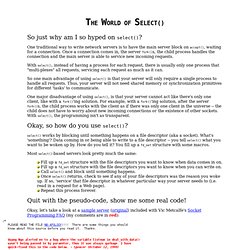 Programs that use non-blocking I/O tend to follow the rule that every function has to return immediately, i.e. all the functions in such programs are nonblocking.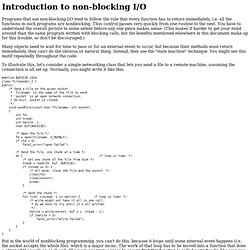 Introduction to non-blocking I/O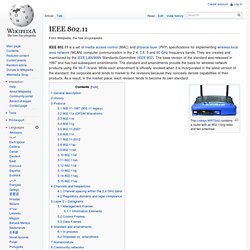 IEEE 802.11 is a set of standards for implementing wireless local area network (WLAN) computer communication in the 2.4, 3.6 , 5 and 60 GHz frequency bands. They are created and maintained by the IEEE LAN / MAN Standards Committee ( IEEE 802 ).
IEEE 802.11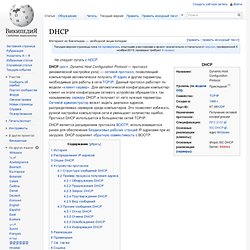 DHCP ( англ. Dynamic Host Configuration Protocol — протокол динамической настройки узла) — сетевой протокол , позволяющий компьютерам автоматически получать IP-адрес и другие параметры, необходимые для работы в сети TCP/IP .
DHCP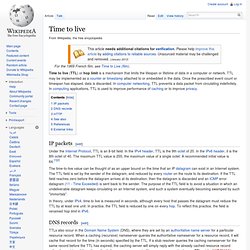 Time to live
Time to live ( TTL ) or hop limit is a mechanism that limits the lifespan or lifetime of data in a computer or network. TTL may be implemented as a counter or timestamp attached to or embedded in the data.
Network interface controller
A network interface controller (NIC) (also known as a network interface card , network adapter , LAN adapter and by similar terms) is a computer hardware component that connects a computer to a computer network . [ 1 ]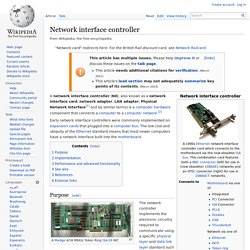 NAT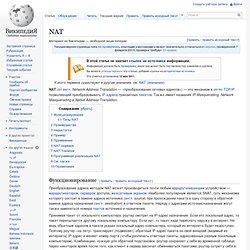 NAT (от англ.
NAT
IPv6
IPv6 ( англ. Internet Protocol version 6 ) — новая версия протокола IP , призванная решить проблемы, с которыми столкнулась предыдущая версия ( IPv4 ) при её использовании в интернете , за счёт использования длины адреса 128 бит вместо 32. В настоящее время протокол IPv6 уже используется в нескольких тысячах сетей по всему миру (более 9000 сетей на май 2012 ), но пока ещё не получил столь широкого распространения в Интернете, как IPv4.
IPv4
Internet Protocol version 4 ( IPv4 ) is the fourth version in the development of the Internet Protocol (IP) and the first version of the protocol to be widely deployed.
Port (computer networking)
In computer networking , a port is an application-specific or process-specific software construct serving as a communications endpoint in a computer's host operating system. A port is associated with an IP address of the host, as well as the type of protocol used for communication. The purpose of ports is to uniquely identify different applications or processes running on a single computer and thereby enable them to share a single physical connection to a packet-switched network like the Internet .