Médias Sociaux
Social Motion 2012 : Les chiffres clés des médias sociaux en 2012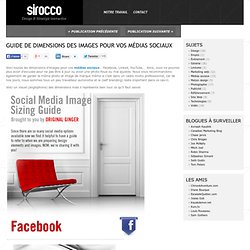 Guide de dimensions des images pour vos médias sociaux | Sirocco Communication
Voici toutes les dimensions d'images pour vos médias sociaux … Facebook, Linked, YouTube… Ainsi, vous ne pourrez plus avoir d'excuses pour ne pas être à jour ou avoir une photo floue ou mal ajustée. Nous vous recommandons également de garder la même photo et image de marque même si c'est dans un cadre moins professionnel, car de nos jours, nous sommes tous un peu travailleur autonome et le (self branding) reste important dans ce cas-ci. Voici un visuel (anglophone) des dimensions mais il représente bien tout ce qu'il faut savoir.
create a beautiful timeline.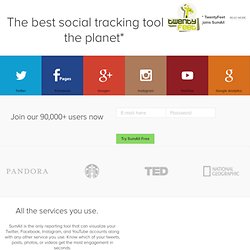 TwentyFeet
TwentyFeet is an "egotracking" service that will help you keep track of your own social media activities and monitor your results. We aggregate metrics from different services, thus giving you the full picture of what happens around you on the web - all in one place. We try to help you understand which of your activities are valuable and how the different services interact. We primarily use official APIs provided by those services to compute and collect your data. Here are short and long descriptions of TwentyFeet. Why should I use TwentyFeet?