Enlaces y Sites
45 paginas web que cambiaran tu forma de navegar en internet. Paginas Web que te pueden resultar Útiles! Pasa, que cuando nos compramos una PC nueva (muy raro... y mas con esta economia) nos faltan aquellos programas que nos eran esenciales en nuestra PC anterior... y aqui les dejo una recopilacion de algunos de ellos...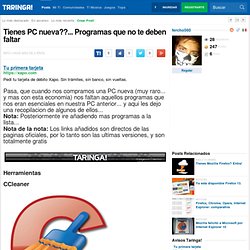 Nota: Posteriormente ire añadiendo mas programas a la lista... Nota de la nota: Los links añadidos son directos de las paginas oficiales, por lo tanto son las ultimas versiones, y son totalmente gratis. Fullnet! - Inteligencia Virtual. Photoshop Tutorials | PhotoshopStar. Tutoralia: tutoriales photoshop, gimp, illustrator, flash, css. How to Videos on TVLesson | How-To Television Network. 150 herramientas gratuitas para crear materiales didácticos on line.
Más de 150 herramientas gratuitas para crear materiales didácticos on line Generadores de cuadernos, libros y publicaciones digitales Cuadernia online (Consejería de Educación y Ciencia de Castilla-La Mancha).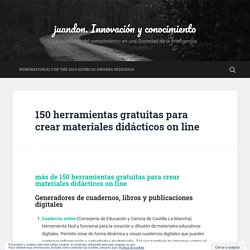 Comunidades de wikis libres para aprender. Enlace de bibliotecas digitales. Top 20 Websites No Teacher Should Start the 2010-2011 Year Without. I have to tell you that it was a tough call to make these decisions, especially when we're talking every teacher no matter what grade level or subject, but I hope that you find a couple of gems to put away in your virtual treasure box.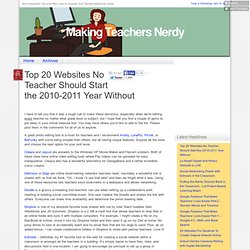 You may have others you'd like to add to the list. Please post them in the comments for all of us to explore. A great photo editing tool is a must for teachers and I recommend Aviary, LunaPic, Picnik, or BeFunky with some being simpler than others, but all having unique features. Explore all the tools and choose the best option for your skill level.
Creaza and Jaycut are answers to the Windows XP Movie Maker and Flipcam problem. 30 Books Everyone Should Read Before Their 30th Birthday. Post written by: Marc Chernoff Email The Web is grand.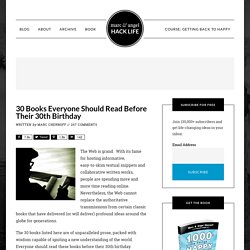 With its fame for hosting informative, easy-to-skim textual snippets and collaborative written works, people are spending more and more time reading online. Nevertheless, the Web cannot replace the authoritative transmissions from certain classic books that have delivered (or will deliver) profound ideas around the globe for generations.
---