Movies
German cannonball jump into frozen swimming pool fail. Old Spice Muscle Music. Cocktail Guide. Hemingway & Gellhorn Trailer. Prometheus Viral Video: Happy Birthday David. Chances you're excited for Ridley Scott's triumphant return to space, Prometheus.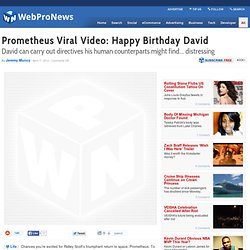 To help build hype for the film, a new viral video has begun to circulate around the Internet. The video centers on Michael Fassbender's David, and he seems to be part of an awkward interview of some sort. The whole video is quite odd, but in a very interesting way. Check it out for yourself below. If you're unfamiliar with "Prometheus", below you'll find the fi'ms official synopsis along with the theatrical trailer. Empire Features. 10 movie poster cliches (with plenty of examples) TUBE+ Watch full length TV Shows and Movies online for free. Zeitgeist Films. [the films of] Christopher Nolan. The Films Of – Guy Ritchie // Tim Burton // Ridley Scott // David Fincher // Danny Boyle (Filmographies, Clips) > Doku, Film-/ Fotokunst, Gossip, Netzkram > directors, filmmakers, filmogaphies, films, movies. The Films Of – Guy Ritchie // Tim Burton // Ridley Scott // David Fincher // Danny Boyle (Filmographies, Clips) Wunderbare Idee, super gute Umsetzung: der 18jährige Voll-Filmnerd Filmstudent Kees van Dijkhuizen jr. aus Holland hat sich mit der filmischen Charakterisierung einiger der bekanntesten Regisseure in Bezug auf Stil, Machart und Inszenierung auseinandergesetzt und aus den populärsten ihrer Filme typischstes Material aneinandergeschnitten.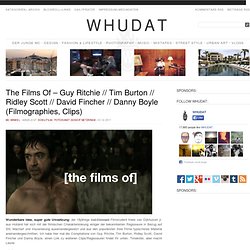 Ich habe hier mal die Compilations von Guy Ritchie, Tim Burton, Ridley Scott, David Fincher und Danny Boyle, einen Link zu weiteren Clips/Regisseuren findet Ihr unten. Timekiller, aber macht Laune: "Kees van Dijkhuizen jr. is 18-year old film student from Holland. All of his montages are small filmographies of the greatest filmmakers of our times. Filmography 2011. The top 25 must-see movies of 2012 - Den of Geek - StumbleUpon. Update: You can now find out list of the top 25 must-see movies of 2013 here.And our 25 must-see movies of 2014 are here.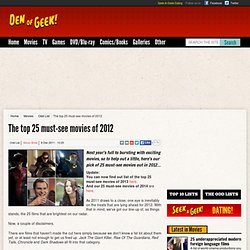 As 2011 draws to a close, one eye is inevitably on the treats that are lying ahead for 2012. With that in mind, we've got our line-up of, as things stands, the 25 films that are brightest on our radar. Now, a couple of disclaimers. Watch Movies Online Free - StumbleUpon.
---