Cellular Automata
Da Wikipedia, l'enciclopedia libera.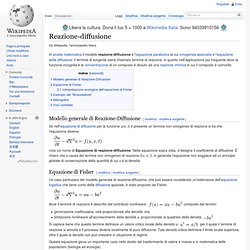 Reazione-diffusione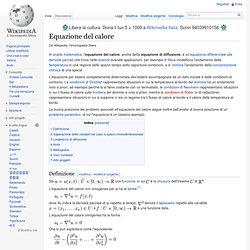 Leggi di Fick
Da Wikipedia, l'enciclopedia libera. In analisi matematica, l'equazione del calore, anche detta equazione di diffusione, è un'equazione differenziale alle derivate parziali che trova nelle scienze svariate applicazioni: per esempio in fisica modellizza l'andamento della temperatura in una regione dello spazio-tempo sotto opportune condizioni, e in chimica l'andamento della concentrazione chimica di una specie. La buona posizione dei problemi associati all'equazione del calore segue inoltre dall'analisi di buona posizione di un problema parabolico, di cui l'equazione è un classico esempio.
In image processing and computer vision, anisotropic diffusion, also called Perona–Malik diffusion, is a technique aiming at reducing image noise without removing significant parts of the image content, typically edges, lines or other details that are important for the interpretation of the image.[1][2][3] Anisotropic diffusion resembles the process that creates a scale space, where an image generates a parameterized family of successively more and more blurred images based on a diffusion process. Each of the resulting images in this family are given as a convolution between the image and a 2D isotropic Gaussian filter, where the width of the filter increases with the parameter.
Anisotropic diffusion
Next: Diffusion Tensor Interpolation Up: Methods Previous: Hue-balls and Deflection Mapping
Reaction-Diffusion Textures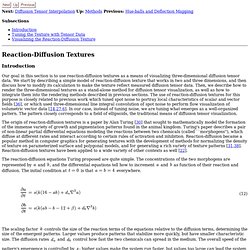 Gray-Scott reaction-diffusion java applet
How can patterns be formed by chemical reactions?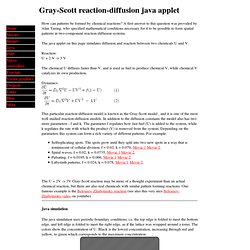 Most of these images are linked to an applet with the same parameters so you can watch and interact with the pattern evolution. Varying F, k, and diffusion parameters
Java demo: Gray-Scott Reaction-Diffusion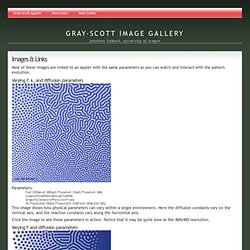 Introduction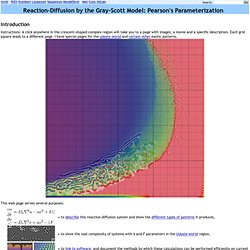 Reaction-Diffusion by the Gray-Scott Model: Pearson's Parameterization at MROB
microemulsion structure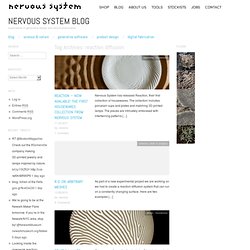 Posted: November 22nd, 2011 | Author: Jessica Rosenkrantz | Filed under: 3dprinting, housewares | Tags: lighting, reaction, reaction diffusion | 1 Comment »
Nervous System – explorations in generative design and natural phenomena » reaction diffusion
Cellular Automata – How the Leopard gets its spots. « Jonathan Pace
I've been reading up on how you can take a set of individual 'things', give each thing a rule to iterate, then sit back and watch them exhibit some interesting behaviour.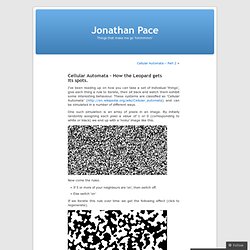 Virtual Laboratory for Simulation and Analysis of Propagating Interfaces more... Sample Numerical Simulation Snapshots Produced with VLSAπ
SIMULATION PICS -  Virtual Laboratory for Simulation and Analysis of Propagating Interfaces
Alan Turing's Biology PaperNear the end of his life, the great mathematician Alan Turing wrote his first and last paper on biology and chemistry, about how a certain type of chemical reaction ought to produce many patterns seen in nature.Called "The Chemical Basis of Morphogenesis," it was an entirely theoretical work.
Alan Turing's Patterns in Nature, and Beyond | Wired Science
Gierer-Meinhardt model
The Gierer-Meinhardt model Figure 1: Short-range activator and long-range inhibitor in Gierer-Meinhardt model \frac{\partial a}{\partial t} = \rho\frac{a^2}{h} - \mu_a a + D_a \frac{\partial^2 a}{\partial x^2} + \rho_a
Computer simulations Equations used for RD systems14 can be generally described as
Blending of animal colour patterns by hybridization : Nature Communications
kondo labo
Simulation Programs (to download, just click the labyrinth pattern)