Paisajes
Arriesgando la vida para fotografiar el volcán más activo del mundo. El volcán Kilauea es considerado el más activo del mundo.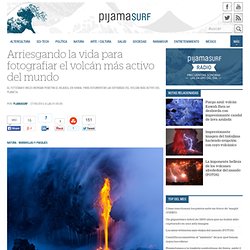 Ubicado en Hawai, este gigante ha hecho erupción al menos 35 veces durante las últimas cinco décadas, liberando un volumen de material tal que si se usará para pavimentar una carretera alrededor de la Tierra el camino completaría tres vueltas. Arriesgando evidentemente su vida, el fotógrafo Miles Morgan decidió excursionar al interior del Kilauea para documentar una serie de ígneos paisajes que pocos humanos han tenido el privilegio, y la osadía, de observar con sus propios ojos. Tras haber penetrado en el vientre de este volcán, el fotógrafo de 41 años procedió a registrar el encuentro de la lava y el agua marina.
n02_sean-heavey.jpg (JPEG Imagen, 990x567 píxeles) "Venezuela. Surroundings of Angel Falls" - (©)AIRPANO.RU - Project by Oleg Gaponyuk. 79463-F.jpg (JPEG Imagen, 950x619 píxeles) Awesome pictures from around the world | Vivi The Mage. Someone sent me these in a chain email, it was horribly formatted.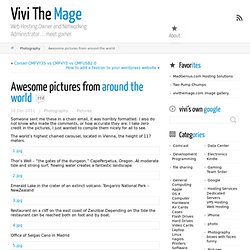 I also do not know who made the comments, or how accurate they are. I take zero credit in the pictures, I just wanted to compile them nicely for all to see. Most popular photography on StumbleUpon! 6036.DSC04645_5F00_2DE0FC72.jpg (JPEG Imagen, 1024x768 píxeles) - Escalado (71%) Landscapes, photos of landscapes, Zhangjiajie National Forest Park - China. Nature photography - pictures of animals, pictures of birds, pictures of butterflies, macro photography of insects, plant photos, pictures of mushrooms.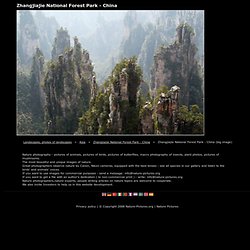 The most beautiful and unique images of nature. Great photographers observe nature by Canon, Nikon cameras, equipped with the best lenses - see all species in our gallery and listen to the birds' and animals' voices. A galaxy not so far away: Salt Lake City photographer captures spectacular images of our own Milky Way arched over the pillars and canyons of Utah.
By Rob Waugh Updated: 17:27 GMT, 7 February 2012 Salt Lake City photographer Royce Bair uses digital cameras and what he describes as a 'copious collection of portable incandescent and flash lighting equipment' to capture his unique views of the night sky over Utah's spectacular canyons.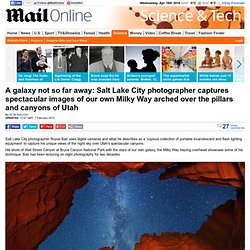 His shots of Wall Street Canyon at Bryce Canyon National Park with the stars of our own galaxy, the Milky Way blazing overhead showcase some of his technique. Bair has been lecturing on night photography for two decades. A photograph of 'Wall Street' canyon at Bryce Canyon National Park on September 20, 2011 in Utah, showing a view across our own galaxy, the Milky Way.
265202e154f050ca102f5e0898574b85-d4gdepf.jpg (JPEG Imagen, 1200x570 píxeles) These 50 Photos Will Blow you Away. Great news today: we will start a series of showcases that are meant to make the jaws drop!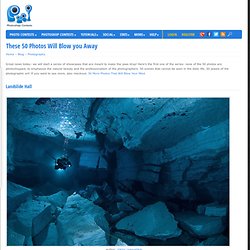 Here's the first one of the series: none of the 50 photos are photoshopped, to emphasize the natural beauty and the professionalism of the photographers. 50 scenes that cannot be seen in the daily life, 50 jewels of the photographic art! If you want to see more, also checkout: 50 More Photos That Will Blow Your Mind Landslide Hall Clouds on Fire Marpissa Muscosa. The Beauty of Death by Skarphedinn Thrainsson. Mount Doom by Skarphedinn Thrainsson. 28485008.jpg (JPEG Imagen, 1536x1152 píxeles) - Escalado (47%)
Amazing Places To Experience Around The Globe (Part 1) 98 Flares Facebook 13 Twitter 15 Google+ 60 StumbleUpon 0 Pin It Share 10 10 98 Flares × Kayangan Lake, Coron islands, Palawan, Philippines Preachers Rock, Preikestolen, Norway.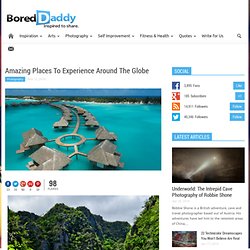 Looks like good Photography Portfolio by Cole Rise. Scandinavian Landscapes on Photography Served. 100 Incredible Views Out Of Airplane Windows. Nwoehnl-m8VDrqaU7No-hd.jpg (JPEG Imagen, 1624x1080 píxeles) Colorful-flower-field_1920x1200_71912.jpg (JPEG Imagen, 1920x1200 píxeles) - Escalado (45%) 4365489343_012a666186_b.jpg (JPEG Imagen, 1024x683 píxeles) - Escalado (80. Norway_102_by_lonelywolf2.jpg (JPEG Imagen, 1280x840 píxeles) 169919.jpg (JPEG Imagen, 1208x870 píxeles) - Escalado (63%) Real_world-44.jpg (JPEG Imagen, 1920x1080 píxeles) - Escalado (50%)
Marvel at the Magnificent Marble Caves [35 PICS] Can you imagine something happening that would endanger these exquisite azure caverns?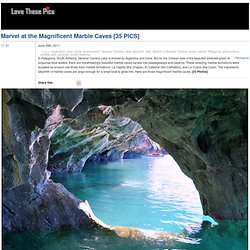 It might if Chile continues with plans to build five hydro-power dams in Patagonia. Photo #7 by © Jorge Leon Cabello The water has eroded the marble to create cavities and marble caves. Islands | Beautiful Places to Visit - Part 2. The island nation known as the Seychelles can be found in the Indian Ocean off the East coast of Africa, North of Madagascar.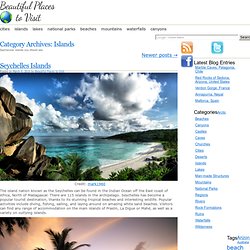 There are 115 islands in the archipelago. Seychelles has become a popular tourist destination, thanks to its stunning tropical beaches and interesting wildlife. Popular activities include diving, fishing, sailing, and laying around on amazing white sand beaches. Visitors can find any range of accommodation on the main islands of Praslin, La Digue or Mahé, as well as a variety on outlying islands. Once a backpacker's secret, Thailand's Phi Phi islands exploded onto the tourist map after the release of The Beach. The 40 Most Spectacular and Mindblowing Photos of Nature. A lifetime is not enough to see what nature has to offer and all its beauties, along with its weirdness at times.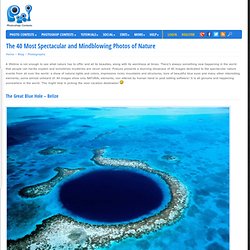 There's always something new happening in the world that people can hardly explain and sometimes mysteries are never solved. Pxleyes presents a stunning showcase of 40 images dedicated to the spectacular nature events from all over the world: a show of natural lights and colors, impressive rocky mountains and structures, tons of beautiful blue eyes and many other interesting elements, some almost unheard of. v22_0RTXV9FO.jpg (JPEG Imagen, 991x618 píxeles) - Escalado (88. 339.jpg (JPEG Imagen, 950x759 píxeles) - Escalado (72%) Un lugar de ensueño: La Falla de Richat.
Desde nuestros inicios los seres humanos hemos buscado las respuestas de nuestra existencia en nuestro propio entorno: la naturaleza, la conciencia y la duda forman parte de nuestra esencia.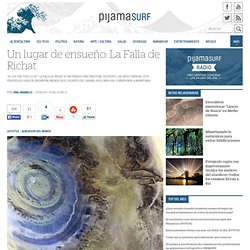 Sin embargo, hay cosas que definitivamente no tienen respuesta —hasta el momento— como es el caso de a "Estructura de Richat", también conocida como "El ojo de la Tierra". Esta impactante falla geográfica nos demuestra una vez más que los seres humanos somos una especie novata en este gran planeta. La Estructura de Richat, apodado por otros "el espejo de Dios", se encuentra ubicada en el Desierto del Sahara, en Mauritania, y se le considera uno de los puntos energéticos más importantes de la Tierra. Top 10: los pantanos más bellos del mundo (FOTOS. Pantanal Matogrossense, Brasil Sabemos bien que cada ecosistema posee características propias que lo hacen inigualable, mismas que se traducen en formas de vida únicas y en muchos casos imposibles de trasladar de un ecosistema a otro, mucho menos en aquellos diametralmente opuestos.
Pero además de todo esto, rico en sí mismo, es posible encontrar un espíritu propio de cada ecosistema, una especie de aura que rodea cada uno de estos ambientes y que expresa —sin palabras de por medio, con la fuerza de su sola existencia— su raison d'être. De ahí que, cifrando en una sola cualidad esa esencia profunda, podamos hablar de la exuberancia de la selva, la templanza del bosque, la radicalidad y recíproca inversión —magno espejo terrenal— del desierto y los círculos polares. Increíble nube píleo con copa de arcoíris (FOTO. Still Looking For Paradise? Maldives - justpaste.it. Double chain of twenty-six atolls… The Republic of Maldives, or simply the Maldives, is an island nation in the Indian Ocean. It consists of approximately 1,190 coral islands grouped in a double chain of 26 atolls, along the north-south direction, spread over roughly 90,000 square kilometers, making this one of the most disparate countries in the world.
The atolls are composed of live coral reefs and sand bars, situated atop a submarine ridge 960 kilometers long that rises abruptly from the depths of the Indian Ocean and runs from north to south. Crystal clear waters, beautiful white sand beaches, swaying palm trees and fabulous dive sites – that's why the Maldives, is known for being one of the best tropical holiday destinations in the world. JGC.
---