Tutorials
Get flash to fully experience Pearltrees
Nowadays, you can see a lot of websites that break the traditional notions of user navigation experience. One of these new breeds of websites are those that make use of parallax scrolling effects in their backgrounds. Parallax scrolling, the technique employed to create an animated illusion of depth has been quite popular in games and now it has found its way in making website interfaces more interesting and enjoyable. Thanks to talented web designers and developers who are constantly searching for ways to enhance web technologies, notably the creation of responsive mechanisms in web designs , and in the given case, parallax effects. If you want a site like this and have a tight budget I can tell you that some single page templates for WordPress have what it takes. Basically, by the principle, parallax works by having the layers of images in the background images move in a slower pace than the ones in the foreground, thus creating a nice 3D effect.
About This article covers how to serve high resolution images on your website for users of high resolution 'retina' device screens. Introduction When it comes to talking 'mobile' – I often read Luke Wroblewski's blog .
Mobile phones being smarter than ever before, ever wondered how some websites redirect you to the mobile version to make it easier to navigate. I use my Nokia E61i a lot for web browsing, while I am traveling. So it was obvious that I had to try this interesting feature Now back to the topic. I did a lot of Google search and found some very interesting websites which list down the process. Basically there are two methods.
Each day you'll be sent a free video lesson. At the end of the month, you'll be able to confidently use jQuery in your projects, without help. Join 65604 students learning jQuery with us Submitting Email Address...
In this article, We are providing the best tutorials of jquery players and HTML5′s <audio> and <video> new features . In which the collection of both jquery audio and jquery video tutorials and plugins have been given. Due to increasing popularity of video sites like youtube and vimeo, the people uploads their vidoes on these sites and then they show that videos on their personal webites and blogs.On earlier days the people show the videos on their sites with the help of flash , As during that days it was the one of the best way to view the videos but now eveyone wants extra good features like faster access to the videos, supporting multiple audio and video formats , player list, adjustable video player width etc.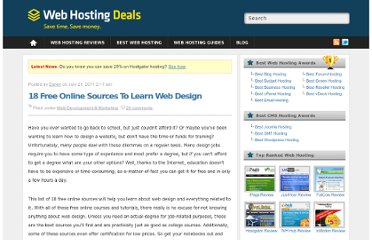 Have you ever wanted to go back to school, but just couldn't afford it? Or maybe you've been wanting to learn how to design a website, but don't have the time or funds for training? Unfortunately, many people deal with these dilemmas on a regular basis. Many design jobs require you to have some type of experience and most prefer a degree, but if you can't afford to get a degree what are your other options?
Almost every new client these days wants a mobile version of their website. It's practically essential after all: one design for the BlackBerry, another for the iPhone, the iPad, netbook, Kindle — and all screen resolutions must be compatible, too.