Web
Ruhoh is a static site generator made for publishing content on the Internet. It's similar to jekyll, nanoc, and others. A static site is a website with no moving parts: no dependencies, no database, no code execution, no admin panel. This is different from a "web application" which requires many layers of software.
Home | ruhoh universal static blog generator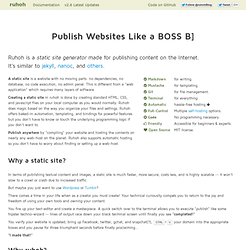 Free and Easy Blog Hosting With GitHub Pages. Jekyll-bootstrap is 100% compatible with deploying to GitHub. GitHub compiles your site on every update so you don't even have to run any code locally! Just push your repository to a valid GitHub Pages endpoint and GitHub hosts your website <3.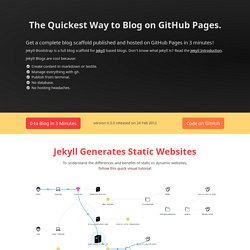 Blogging with Jekyll Tutorial | Jekyll-Bootstrap
Rectangles are building blocks of grids in Cedvel. Use the rectange tool draw an arbitrary rectangle on the canvas and then modify its exact dimensions and margins from the properties panel. Once you are satisfied with the size and position of your container rectangle, divide it into rows and columns and set gutter widths and heights. WIDTH, HEIGHT and MARGIN CONTROLS Margins define width, height and position of a rectangle within a page.
CEDVEL
Unit Verse | Unit Interactive's Design, Development, and Business Blog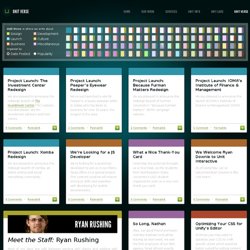 Project Launch: The Investment Center Redesign We are pleased to announce the redesign launch of The Investment Center (TIC) website, a broker/dealer site for investment advisors and their clients. Project Launch: Peeper's Eyewear Redesign We've just launched a site for Peeper's, a luxury eyewear seller in Dallas who has been in business for over 35 years, the longest in the area. Project Launch: Because Furman Matters Redesign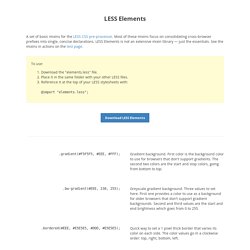 .gradient(#F5F5F5, #EEE, #FFF); Gradient background. First color is the background color to use for browsers that don't support gradients. The second two colors are the start and stop colors, going from bottom to top. .bw-gradient(#EEE, 230, 255); Greyscale gradient background.
LESS Elements: a collection of useful LESS mixins
Google I/O 2012 - Chrome Developer Tools Evolution
About Initializr Initializr is here to kick-start the development of your new projects. It generates templates based on HTML5 Boilerplate by allowing you to choose which parts you want or don't want from it. A responsive template has also been added to start from a basic design instead of a blank page. International guides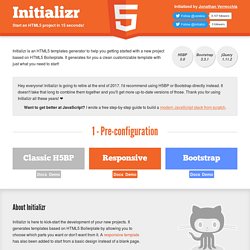 Building Interactive Books with EPUB 3 and JavaScript Play See how to combine EPUB with HTML, CSS, and JavaScript to deliver novels, picture books, and interactive books on the iBookstore. Get a quick review of the new EPUB 3 format, then dive deep into the latest features that let you add interactivity to your book by using JavaScript. See how to create fun and engaging books that support drag, toggle, and stamp, and learn to play sounds and activate animations at key times.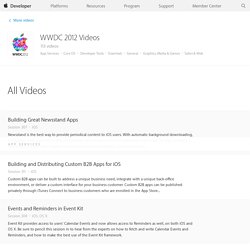 ImageOptim optimizes images — so they take up less disk space and load faster — by finding best compression parameters and by removing unnecessary comments and color profiles. It handles PNG, JPEG and GIF animations. ImageOptim seamlessly integrates best optimisation tools: PNGOUT, Zopfli, Pngcrush, AdvPNG, extended OptiPNG, JpegOptim, jpegrescan, jpegtran, and Gifsicle. It's excellent for publishing images on the web (easily shrinks images "Saved for Web" in Photoshop) and also useful for making Mac and iPhone/iPad applications smaller (if you configure Xcode). How to use it Simply drag'n'drop images or folders into the window!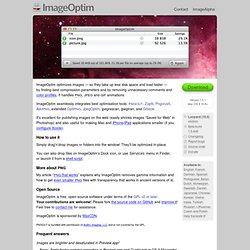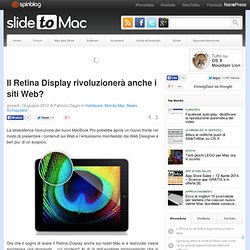 La stratosferica risoluzione dei nuovi MacBook Pro potrebbe aprire un nuovo fronte nel modo di presentare i contenuti sul Web e l'entusiasmo manifestato dai Web Designer è ben piu' di un auspicio. Ora che il sogno di avere il Retina Display anche sui nostri Mac si è realizzato nasce spontanea una domanda… cui prodest? Al di là dell'evidente miglioramento che si possa ottenere con contenuti nei quali è ben visibile la maggior definizione, nell'esperienza d'uso giornaliera, in particolare nella navigazione sul Web, in che modo la maggior definizione dovrebbe migliorare (e tale) o cambiare il nostro modo di fruire di tali contenuti?
Il Retina Display rivoluzionerà anche i siti Web? - SlideToMac Blog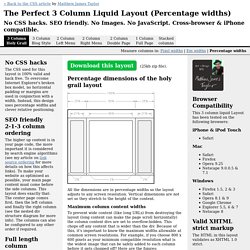 Download this layout (25kb zip file). Percentage dimensions of the holy grail layout All the dimensions are in percentage widths so the layout adjusts to any screen resolution. Vertical dimensions are not set so they stretch to the height of the content.
Never searching in the code again Not every page has the favicon.ico file in the domain root folder, getfavicon.org will look for the favicon in the page code for you. Don't handle ICO files anymore
The favicon search engine - getFavicon.org
Less is a CSS pre-processor, meaning that it extends the CSS language, adding features that allow variables, mixins, functions and many other techniques that allow you to make CSS that is more maintainable, themable and extendable. Less runs inside Node, in the browser and inside Rhino. There are also many 3rd party tools that allow you to compile your files and watch for changes. For example: compiles to Less can be used on the command line via npm, downloaded as a script file for the browser or used in a wide variety of third party tools.
Using this plugin? You may also be interested in an Apache Ant task for LESS. (Désolé, cette page n'est disponible qu'en Anglais.) Overview
Eclipse plugin for LESS
02 Jan 2014 Poole is the Jekyll butler. It's a fully furnished Jekyll setup, designed to be a consistent and flexible starting point for Jekyll projects. It's available today, and I'm releasing two open source themes with it.
Deep Thoughts by Mark Otto
Login Form If you are designing a web app, I am sure that you are going to have a login form at some point of your design. So, for our wireframe freebie today I present a simple login form for you to download! Preview Download Kit