Web
Home | ruhoh universal static blog generator
Blogging with Jekyll Tutorial | Jekyll-Bootstrap
CEDVEL
Unit Verse | Unit Interactive's Design, Development, and Business Blog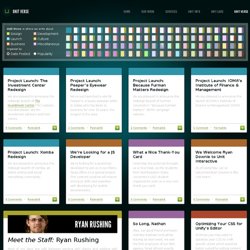 Project Launch: The Investment Center Redesign We are pleased to announce the redesign launch of The Investment Center (TIC) website, a broker/dealer site for investment advisors and their clients. Project Launch: Peeper's Eyewear Redesign We've just launched a site for Peeper's, a luxury eyewear seller in Dallas who has been in business for over 35 years, the longest in the area. Project Launch: Because Furman Matters Redesign
LESS Elements: a collection of useful LESS mixins
Google I/O 2012 - Chrome Developer Tools Evolution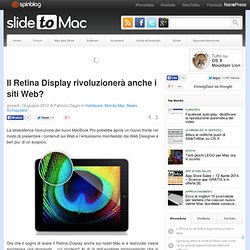 La stratosferica risoluzione dei nuovi MacBook Pro potrebbe aprire un nuovo fronte nel modo di presentare i contenuti sul Web e l'entusiasmo manifestato dai Web Designer è ben piu' di un auspicio. Ora che il sogno di avere il Retina Display anche sui nostri Mac si è realizzato nasce spontanea una domanda… cui prodest? Al di là dell'evidente miglioramento che si possa ottenere con contenuti nei quali è ben visibile la maggior definizione, nell'esperienza d'uso giornaliera, in particolare nella navigazione sul Web, in che modo la maggior definizione dovrebbe migliorare (e tale) o cambiare il nostro modo di fruire di tali contenuti?
Il Retina Display rivoluzionerà anche i siti Web? - SlideToMac Blog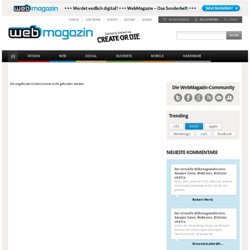 So werden Webseiten für Retina Displays fit gemacht! [Flowchart]
Es ist ein Fehler aufgetreten Leider konnte die von Dir angeforderte Seite nicht gefunden werden. Möglicherweise suchst Du eine Seite, die es nicht mehr gibt, oder Du hast Dich bei der Eingabe einer URL vertippt. Wir empfehlen: Überprüfe die URL auf Tippfehler. Nutze die globale Suche oben rechts, um die gewünschte Seite auffindbar zu machen.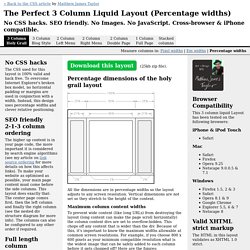 Download this layout (25kb zip file). Percentage dimensions of the holy grail layout All the dimensions are in percentage widths so the layout adjusts to any screen resolution. Vertical dimensions are not set so they stretch to the height of the content.
The favicon search engine - getFavicon.org
Online ICO converter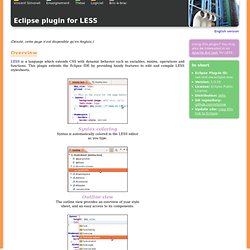 (Désolé, cette page n'est disponible qu'en Anglais.) Overview LESS is a language which extends CSS with dynamic behavior such as variables, mixins, operations and functions. This plugin extends the Eclipse IDE by providing handy features to edit and compile LESS stylesheets.
Eclipse plugin for LESS
Deep Thoughts by Mark Otto