Beauty
"One Good Thing" by Jillee: Whitening Whites...Can This Cami Be Saved? My post about getting armpit stains out of t-shirts apparently struck a nerve or something.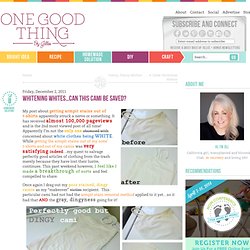 It has received almost 100,000 pageviews and is the 2nd most viewed post of all time! Apparently I'm not the only one obsessed with concerned about white clothes being WHITE. While getting the armpit stains out of my sons' t-shirts and out of my camis was very satisfying indeed…my quest to salvage perfectly good articles of clothing from the trash merely because they have lost their lustre, continues. This past weekend however, I feel like I made a breakthrough of sorts and feel compelled to share. Once again I drag out my poor stained, dingy camis as my "makeover" victim recipient. PIN IT UP, GIRL - thebeautydepartment.com - StumbleUpon. Photo: justin coit for thebeautydepartment.com post designed by kristin ess Our email box is literally flooded with requests for updos so here's a fun one to get us all going!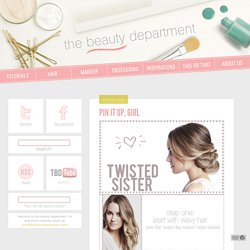 This is always a favorite for attending an event. This updo looks gorgeous on any hair color but particularly amazing with hilighted hair because it gives the hair lots of depth and dimension. For lack of a better word, I love the way it becomes "swirly". Best thing is; it's easy to do, gorgeous and keeps your hair out of your way for the night. ...love Maegan: * Partial French Braid & Cascading Hair Tutorial *also known as the "Waterfall Braid" Fashion+Home+Lifestyle.
I'm not the originator of this hair style but I've gotten so many requests for it, I thought I'd give it a go for you.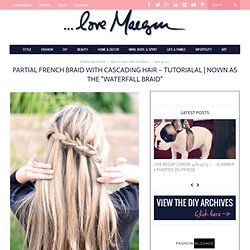 I don't know what it's called either so I haven't researched it and/or found any other tutorials for it …thus, this is my version of it, and I've dubbed it the Partial French Braid w/ Cascading Hair. The photos I've seen online show the braid a little more straight across the back of the head and mine sort of braids at an angle, similar to my side/low french braid up-do. I'm sure this is 100% easier to do on someone else's hair than your own but it goes pretty quickly once you get the hang of it …I mean, it's my shortest hair video tutorial to date.
That's gotta mean something, right. 10 Shapes for Your Eyeshadow | Makeup Geek - Tips, Video Tutorials,... - StumbleUpon. This article is especially for those of you who may feel stuck with your everyday makeup look and desire to branch out, but just can't seem to figure out the best way to do it.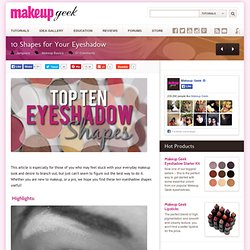 Whether you are new to makeup, or a pro, we hope you find these ten eyeshadow shapes useful! Highlights: Makeup is, after all, just a trick of the light. By highlighting certain areas, you can easily create the illusion of a brighter eye. Using lighter shades in areas to help them stand out, and deeper shades to add depth, pushing them back. THE LONG + THE SHORT OF IT - thebeautydepartment.com - StumbleUpon.
Photos: justin coit + thebeautydepartment.com post designed by kristin ess Remember when Lauren's go-to hairstyle was the bang braid?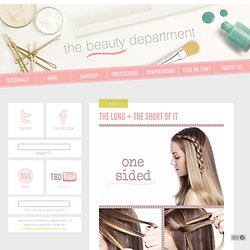 Well, lately this little lady's had a new favorite. Check out this gem. 15 unusual uses for your hair dryer on Shine. By Melissa Breyer More from Care2 Green Living blog Handheld hair dryers were introduced for the domestic market in 1920, and since then countless hairdos have relied on that combination of heat and air to achieve their coiffed perfection.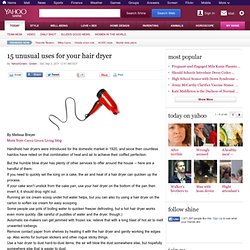 But the humble blow dryer has plenty of other services to offer around the house -- here are a handful of them: If you need to quickly set the icing on a cake, the air and heat of a hair dryer can quicken up the process. My Beauty: 13 Beauty Products You ACTUALLY&Need - Holier than Now -... Eyes make up 2.
Summer Hair Braid Trends. Braids, pleats, or plaits—whatever you call them, we're absolutely loving all things twisted in hair this season.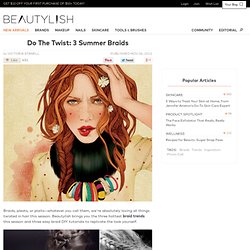 Beautylish brings you the three hottest braid trends this season and three easy braid DIY tutorials to replicate the look yourself. Who needs a headband when you can make one from your hair! Out of the ordinary Beauty Tips that work | Cher Cabulas Mindbox. Use toothpaste on yellow nails.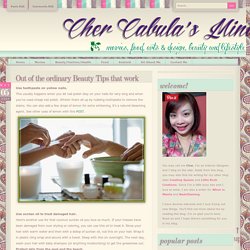 This usually happens when you let nail polish stay on your nails for very long and when you've used cheap nail polish. Whiten them all up by rubbing toothpaste to remove the stains. You can also add a few drops of lemon for extra whitening, it's a natural bleaching agent. See other uses of lemon with this POST. Use suntan oil to treat damaged hair.
Fun Friday - DIY Beach Hair - asuyeta [ah-soo-yeh-tah] clothes... I love the messy hair/bohemian look.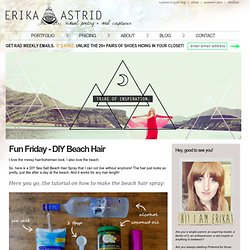 I also love the beach. So, here is a DIY Sea Salt Beach Hair Spray that I can not live without anymore! The hair just looks so pretty, just like after a day at the beach. How to: pore strips. You know those Biore pore strips you buy at the drugstore for about $12 a pop? Yeah, those. Today I'm going to teach you how to make your own homemade pore strips. Bath Fizzies. Ice-cube trays serve as molds, giving the fizzies their shape. Using a flexible silicone model lets you slide the cubes out smoothly without breaking them. Show off the colors of the bath fizzies in glass jars with screw tops, the kind used for storing sugar and flour. Pack each type of fizzy in a separate jar so the scents won't meld.
Write the name of the scent on a vellum tag (choose a shade that matches the fizzies), and punch a hole in the top. The kitchen spa. Help your skin survive unpredictable weather with these two essential steps: exfoliation and moisturization. Skin-cell buildup leads to dryness, poor circulation and blemishes. Exfoliation eliminates these dead cells, revealing fresh skin that is better able to absorb moisture. And guys, take note: While men's skin tends to be oilier than women's, men may be more prone to epidermal dehydration.
Food: Avocado Purpose: Moisturizer. How to Make Your Own Beauty Products from Scratch - Health - GOOD. Let's keep things simple this week. When it comes to personal-care products, we are big believers in streamlining what you use—see "Eight Products You Think You Need But Don't" for a refresher—buying less in general, and getting creative. We have both always loved experimenting in our kitchens and our bathrooms, checking ingredients in products we love, isolating the main ones, and then trying them on their own.
Sometimes it works: A favorite hair leave-in contained aloe, for example, so one day we tried aloe alone and found that, lo and behold, it worked just fine on its own. And sometimes it didn't. Over the years we have tried dozens of DIY beauty recipes to find ones we like—and that work.
---