Alcide
Monsieur Pingouin
Le seul alcidé de la blagosphère. Asie, archives, relations internationales :=)
First Thoughts on Piketty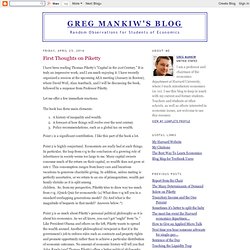 I have been reading Thomas Piketty's "Capital in the 21st Century." It is truly an impressive work, and I am much enjoying it. I have recently organized a session at the upcoming AEA meeting (January in Boston), where David Weil, Alan Auerbach, and I will be discussing the book, followed by a response from Professor Piketty. Let me offer a few immediate reactions.
Think Tank Watch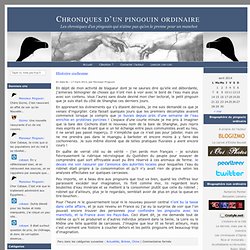 Chroniques d'un pingouin ordinaire
Depuis le temps que le site Wikileaks et son fondateur Julian Assange font parler d'eux, j'imagine qu'il n'aura pas échappé à mon précieux lectorat hexagonal qu'il est paradoxal que ces derniers puissent continuer de se vanter d'avoir pour devise : « le courage est contagieux » alors que ce sont des spécialistes de la fuite. Somptueux paradoxe puisque pour l'instant, en ce qui concerne Julian Assange, aucune fuite n'a été organisée pendant son court séjour à la prison de Londres, pas même son extradition vers un pays nommé étrangement Sverige, c'est à dire comme on doit l'appeler normalement : la Suède. La Suède est un pays où, en ces périodes de fêtes et de dépenses insensées, les parents se voient recommander par les pingouins ordinaires, tels que mon humble personne, de ne plus offrir de vélomoteur à leur boutonneuse progéniture. En effet, c'est un pays où il n'est guère recommandé de faire du solex par surprise.
M. Pingouin et les relations internationales
Moyen-Orient / Middle East
Hommes des casernes - Militaires
Foreign policy - Politique étrangère - Diplomacy - Diplomatie
Monsieur Pingouin has some friends
More leaks ? What the hell is doing super Mario ?
Wikileaks - Cablegate / Statelogs