Funny)Divertidos
JARRITOS. Funny Blog! The Funny Pages - Home. Funny Pages. Excuse me, i was looking at the water. Hey, c'mon. Hestekor.swf (application/x-shockwave-flash Object) Om cookies på våra tjänster Vi använder cookies för att ge dig en bättre upplevelse av SVT:s webb.
Om cookies på barnkanalen.se Karaktärskarusell Benny BrunFredagkväll med MalinSuperlördagSöndag med AmyFredagshäng med RijalGaspard och LisaPiraternaFixa rummetPax jordiska äventyrPonnyakutenHjärnkontoretAmigo GrandeVad är..? RanchenMasha och björnenPhilofixLilla SportspegelnMinimelloVildmark - utmaningenBardaHej kompis! Ha. ZOOM . games . ubbi dubbi translator. The Secret Language of ZOOM: Revealed!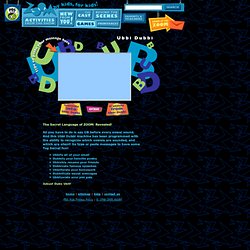 All you have to do is say UB before every vowel sound. And this Ubbi Dubbi machine has been programmed with the ability to recognize which vowels are sounded, and which are silent! So type or paste messages to have some Top Secret fun! Ubbify all of your email Dubbify your favorite poetry Ubbishly rename your friends Dubbivate famous speeches Ubbliterate your homework Dubbificate secret messages Ubbfuscate your pen pals Jubust Dubo Ubit!
Halloween. Funny Anti Jokes - StumbleUpon. Animals With Lightsabers - Want to create or edit your own image? Get started... Random funny pictures.
---